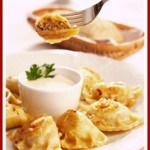 PERTH AMBOY – St. John the Baptist Orthodox Church is having a pierogi sale on Monday November 5th to Friday, November 9th.
Pick up your orders at: 404 Division St. Perth Amboy, NJ, 08861.
Call 732-826-7067 to place your order between 9 a.m. and 1 p.m. ALL ITEMS ARE HANDMADE, , therefore, call early, before maximum sales quota is reached.
Pierogi – Potato, $7
Cake – Poppy seed/nut/apricot/raspberry/prune – $10
The order date is September 28 for pierogi and cakes.
The pick-up date is November 13th, 14th & 15th.
Thanks for your order!
Thank you for your order!!!