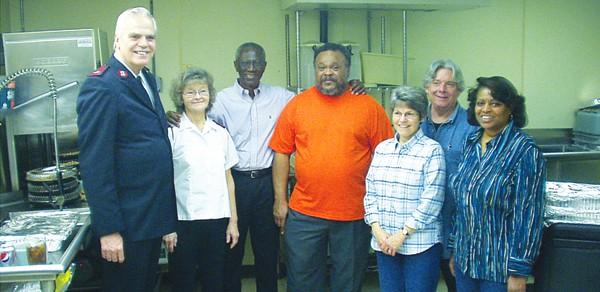 (L to R) Major Stephen Carroll, Major Betzann Carroll, Steve Simon, Gerry Johnson, Peggy and Frank Pittenger, and Nattalia Nelson in the kitchen.
By  Joe Bayona—
PERTH AMBOY – Traditionally Thanksgiving is a day for giving thanks. Thanksgiving was started in this country by the Pilgrims in 1621, made a national holiday by Abraham Lincoln in 1863, and moved to the fourth Thursday of November by Franklin D. Roosevelt in 1941.
We celebrate it with family and loved ones. All coming together to enjoy elaborate dinners of turkey, stuffing, pumpkin pie, and anything else that will fit on the table.
However, there are some who celebrate it in a different way. They celebrate it by providing a hot meal and comfort for those who have nothing or next to nothing. The people I'm referring to are the volunteers of the Salvation Army and Faith Fellowship Ministries.
For three years now these two fine organizations have provided a Thanksgiving meal for the less fortunate. The Perth Amboy Corps of the Salvation Army, providing the use of their facilities on State St. and the volunteers of Faith Fellowship Ministries of Sayreville providing the "elbow grease".
Upon arriving at the Salvation Army building I was greeted by Steve Simon of the Faith Fellowship Ministries who was in charge of putting the dinner together. Steve then introduced me to Gerald "Gerry" Johnson. Gerry was in charge of the kitchen. Not only did Gerry run the kitchen for this dinner but he also provides meals every third Wednesday of the month for the less fortunate, at this same location, out of his own pocket.
Next I met Major Stephen Carroll and his wife Major Betzann Carroll who were brought out of retirement to run the Perth Amboy Corps of the Salvation Army. They will be returning to their home in Pennsylvania in June, when a new commander will take over. Major Carroll explained to me that in addition to this meal the Perth Amboy Corps put together 150 turkey baskets prior to this dinner to distribute to families who were in need of them.
All together there were approximately 35 volunteers who helped put this dinner together. In the 2 previous years 150 meals were served. This year the goal is at least 200.
All of the food was donated. The donations came from, The Alvarez Café of Elizabeth, Lynmine Restaurant of Plainfield, Mulberry Caterers of Sayreville, Giovanni's Pizza of Perth Amboy, and St. James Catholic Church of Woodbridge. Food was also donated by individual members of Faith Fellowship Ministries. The decorations, table cloths, and the like were donated by St. James School of Woodbridge.
During the dinner Maj. Betzann Carroll pointed out two guests that she said would be "ringing the bell" for the first time this year. For those who aren't familiar with the term, "ringing the bell", it's when a Salvation Army volunteer stands outside with a red bucket on a tripod "ringing the bell" for donations, (in all types of weather I might add). One was David, a recovering addict who was celebrating 34 days clean and credits the Salvation Army for his recovery. The other was Shen, a 67 year old electrical engineer by trade, who found himself homeless for the first time 12 weeks ago. Both said they were ringing the bell as a way to give back for the kindness they were given.
So in conclusion I would just like to say that if you find yourself one Thanksgiving Day with nothing to be thankful for, be thankful that there are people on this earth like those who are the Salvation Army and Faith Fellowship Ministries. I know I am.