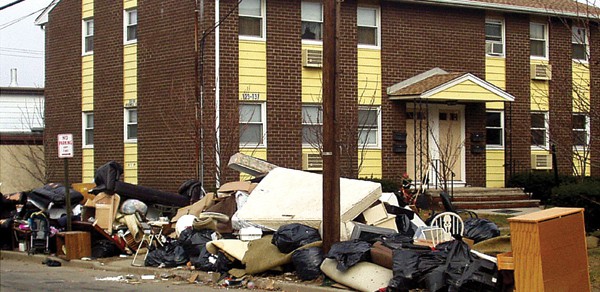 South Amboy Rosewell & John Streets
SOUTH AMBOY – A Local Resident called the Amboy Guardian early last week in regards to the story about progress on Rosewell and John Streets. This resident's son was walking home from school and as he passed the garbage pile he saw a large rat. The resident also said that he would definitely be at the next Council meeting on December 19 to voice his concerns and make sure they are addressed.
The Amboy Guardian contacted Councilman Mickey Gross to alert him to the concerns of this resident.
Councilman Gross said that the owner of the apartment building (Photo Right) in question was being heavily fined by the City.
When questioned as to whether or not the City could collect the heavy amount of trash and send the bill to the owner, Gross said that it is up to the Mayor to do that. Gross also said, "If that resident called the Guardian back, he should immediately feel free to contact me."
Another resident that the Amboy Guardian spoke to said, "There have been dumpsters at the apartment building in question but the dumpsters were not being emptied readily."
The Amboy Guardian spoke to another resident on 12/10/12 who said that most of the garbage on Rosewell and John Streets were picked up and removed.
This resident also owns a home located near the corner of Augusta and John Streets. His home was heavily damaged during the hurricane. The resident stated that most of the garbage in front of his house and the neighboring homes were removed.