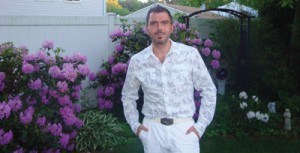 By Maraika Najimian—
EDISON  —Losing a loved one can be a traumatic experience, but now there is a way to turn tragedy into something positive. Coming up on its one year anniversary, Graveside Guardians is a family owned business that offers gravesite services to those who have lost a loved one. Personalized care is what separates them from regular cemetery maintenance. Graveside Guardians offers a wide range of services including basic cleaning and maintenance, as well as flowers, candles or any other special request from a customer. Although they are located in central New Jersey, they are willing to travel anywhere within reach for anyone seeking their services.
Graveside Guardians is run and owned by Michael Daly, his brother Peter Daly, Jr. and Peter's wife Bobbi. They were inspired to start this business after dealing with their own personal experience with loss through the deaths of their brother, mother and father. While learning to cope with the deaths in their family, they have found comfort in helping others cope with their losses. Michael describes his work as taking care of his own family. He said, "It gives me a sense of peace. I just want to do for people what I would do for my own family."
Many people may feel that working in graveyards would be difficult, but that is not the case here. Being in graveyards regularly doesn't upset them. Along with the personal losses they have dealt with, Michael has worked doing research in the transplant field for 13 years. Over the years he has seen how deceased peoples' organs and tissue have been able to save someone's life. There have even been cases where the family of a deceased donor was able to meet with the person whose life was saved. Being in this line of work for over a decade, Michael has been very touched by this. He is able to see past the tragedy of death, but also what good can come out of it. This is why he and his family are so passionate about their business. They realize that not everyone is comfortable and easy dealing with death.
What they offer is not only the physical labor of maintaining a gravesite, but also the emotional and personal support for each specific customer. Their goal is to treat their clients with the same respect and comfort that they would their own family. Their services are especially useful for those who cannot keep up with maintaining a gravesite due to geography and lack of physical abilities. For example, if you live too far away from your loved one's cemetery or if you aren't capable of doing the heavy lifting, or cleaning of the grave. They also understand that it can be very hard for some people to visit gravesites for emotional reasons. Because of this, their services are also helpful to those who find it too difficult to go to the actual gravesite but still want to acknowledge their loved one.
The Daly family feels that what they do for people is very rewarding. Through their own personal experiences, they have learned how to help others going through similar experiences. They usually become close to their clients, even after their work is done. If you or someone you know has lost someone and seeks help with gravesite maintenance, visit their website www.gravesideguardians.com for more information about the services they offer. You can also email info@gravesideguardians.com to get specific questions answered.