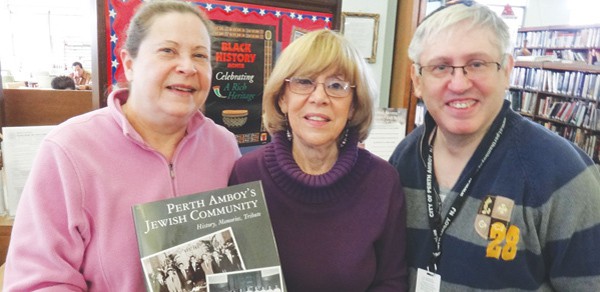 PERTH AMBOY — Pictured is Marilyn Millet Goldberg presenting a copy of the long-awaited, finally published "Perth Amboy's Jewish Community – History, Memories, Tribute to Patty Gandy, Director of the Perth Amboy Public Library and Herschel Chomsky, Senior Library Assistant.
The book, which was 12 years in the making was recently published. Best-selling author, Robert Spector, who grew up in Perth Amboy, penned the history. He is best-known for The Nordstrom Way: The Inside Story of America's #1 Customer Service Company, as well as many other insightful book classics about well-known American businesses.. Alan Cheuse, a Perth Amboy native and professor of English at George Mason University also contributed to the project, Janet Bernstein Rabinowich, another Perth Amboy native, edited the book as did Daniel Chazin, grandson of Cantor Hirsch Chazin of Congregation Shaarey Tefiloh.
Along with Marilyn Millet Goldberg, Dr. Mona Shangold and Jane Sanders Leal, all Perth Amboy natives, were involved in every aspect of the book, which is a beautiful treasure telling the story of the immigrants, the synagogues, the clergy, businesses, people and much more.
For more information, please contact Ms. Goldberg at Marilynmgpa@aol.com.
*Photo submitted