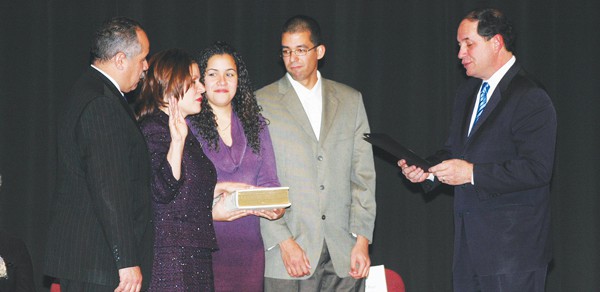 By Joseph L. Kuchie—
PERTH AMBOY – Mayor Wilda Diaz, councilman Fernando Irizarry, and councilwoman Lisa Nanton were all sworn in and presented speeches during last Thursday's inaugural organization meeting at Perth Amboy High School.
A large number of residents, state senators, and city employees came out to support the city's newest representatives as they were sworn in. Senator Joseph Vitale gave his remarks early on and spoke highly of Mayor Diaz and the city of Perth Amboy.
"Mayor Diaz, facing hundreds of millions of dollars in debt, stood peering down her own fiscal cliff at a critical time for Perth Amboy. There was a budget on life support and a financial future in serious doubt," Vitale said. "Through her leadership and council partnership she made the tough decisions and asked residents to join her through smart work and hard work. Ladies and gentleman, better days are here. The city's heartbeat is strong, businesses are striving, and hope is being restored."
When she came to the podium, Mayor Diaz spoke of the city's progress and the future plan to restore the Perth Amboy waterfront that was destroyed by Hurricane Sandy. She noted the hardships that the city has gone through but believed Perth Amboy would once again come out of them better than ever.
"Our city is 330 years old. If there is any city in this country that has seen changes, troubles, and trials, it's been Perth Amboy," Diaz said. "But make no mistake, if there's any city that has lived to tell the story of transformation, growth, and triumph, it is Perth Amboy."
Diaz announced her plan to create a committee to consult with the city on fixing the waterfront area. She hoped that the effort from city residents and the local government would bring positive change.
"We've been faced with the task to rebuild, repair, and restore. In my efforts I am in the midst of creating a waterfront recovery and redevelopment advisory committee comprised of community members and business owners," Diaz said. "This committee will provide recommendations to the city council and I on the renewal of the city's most valued treasure. Together we will work to turn unexpected challenges to positive changes."
Mayor Diaz closed her inaugural speech talking about the money issues that Perth Amboy has faced since her first term. She praised the dedication of the city's residents and promised that things will continue to move forward.
"My administration has transformed the way we handle your money, and you have every right to know where your money goes," Diaz said. "There is no community more important to me than Perth Amboy. You will get nothing less then my sincere commitment in my responsibility to you."
Perth Amboy's newest council members also spoke after being sworn in. Councilman Irizarry spoke of a hard fought election but asked local residents to have peace and work together to make Perth Amboy better.
"During the campaign there were times where if we could have killed people with our looks, we would have done it, but I submit to you that now is a time for peace," Irizarry said. "I am aware that our city was forced to take the bumpy and less driven road. Let's not give up or back down. Let's work together to find solutions that will save our city money and make it a better place to live. "
Councilwoman Nanton spoke of recovery and believed that residents could work together to overcome all challenges and continue to be one of the country's best cities. She talked of her life in Perth Amboy and how the recent struggles should not discourage anyone.
"We are a city destined to be first. Although we are facing enormous debt and restorations to the waterfront, I am in no way discouraged," Nanton said. "To recover it's going to take all of us to make an effort and respect each other. Regardless of where we are from, everyone smiles the same language. Tonight, we are all Perth Amboyians."