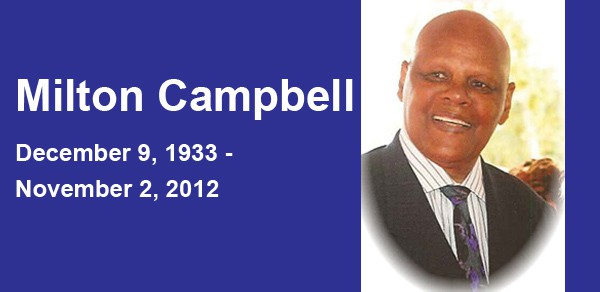 Between 1970 and 1980 I had a Little Fireplace Shop on Main St. in Metuchen. During Football Season it was the home of a huge stuffed Bulldog named Bucky. Many of my friends like Charlie Butler used to stop in on a cold Saturday afternoon and warm up to the warm burning fireplace. One afternoon a guy stopped by in while Charlie and I were talking sports. I said, "Hi, my name is Tom Clark and this is Charlie Butler." The stranger replied, "Hi my name is Milt Campbell."
I never played with Milt or saw him play but I knew who he was. He said, "How much for the Doggie in the window?"
I said, "The one with the raggedy tail?" (For younger people, that was a song back then.) We both laughed.
Milt stopped by my show about 3 to 4 times again. We were able to talk for 15 minutes or so. I learned a lot about him during those visits.
Milton Campbell and I grew up in Pre-Civil Rights America. I was two years older than Milt. I was never interested in track and field and I still can't swim a stroke. In those two sports, no one and I mean no one could beat Milt Campbell. he was faster than a speeding bullet. I graduated from High School in 1950 and Milt in 1953. He graduated from the University of Indiana and was a great running back on the football team. He played for the Cleveland Browns from 1957 till 1958 and was in the same backfield with the Hall of Famer Jim Brown. he lasted only one year and was let go by the Browns owner. I believe it was because he married a white girl and the owner had him blacklisted in the NFL. Milt then played in the Canadian Football League for eight years. I think he would have been a Hall of Famer in the NFL.
While Milt was playing football at Indiana our football team at Alabama was lucky to win a game but we did have a quarterback named Bart Starr. If you follow Pro Football you will connect Bart with the Green Bay Packers. Alabama fans were restless, so a new Athletic Director and Football Coach was hired. He came from Texas A&M and his name was Paul (Bear) Bryant. He was far ahead of the game. He scheduled a game with a great U.S.C. Team loaded with black stars. Bama got beaten badly. Bryant got his point across to all the sportswriters who covered the game in Birmingham that day.
I stayed in touch with Coretta Scott King until she started losing her battle with cancer. I once asked her if her husband could have been President of the United States? She answered, "NO! because it wasn't the right time yet." Milt Campbell said the same thing about the 1950's when he was one of, if not the best athletes in the world.
Time moves along and Milt and I were only five miles away from each other. I tried to get in touch with Milt but no dice.
Finally, a few years ago I was in the South Plainfield Post Office and I asked a guy if he knew a guy named Milt Campbell. He said, " I'm from Plainfield an d Milt was the best athlete that New Jersey ever produced." I said, "That's the guy and asked where he lives?"
He told me a place called Gainsville, Georgia. That was a few years ago. Tried to call Milt but there was no Milton Campbell listed. I said to myself, "I don't blame Milt. He doesn't need a million phone calls." I read about Milt's death on Nov. 4. I realized then that the telephone was listed under Linda Rusch (Milton's wife's maiden name).
I sent the family a sympathy card and Linda sent me a copy of the funeral service and a picture of Milt. A welcome song was Unforgettable by Nat King Cole. I know and remember that song word for word. Nat King Cole was one of my favorites and I still have every record that he ever recorded.
Milton "Milt" Gray Campbell passed away on Nov. 2, 2012. He won the silver medal in the decathlon when he was still in High School (1952) and four years later won the Gold at the 1956 Olympic Games in Melbourne, Australia.
The building where my fireplace shop was is still there Bucky Bulldog is no longer in the front window and the big electric scoreboard is gone. If that electric sign could come back, it would say, "Hi, my name is Milt Campbell and you can do anything in this life if you are willing to put forth the effort." I agree with Milt on that 100%. Thank God for letting me meet Milt Campbell and I will never forget him.
Thomas Francis Clark
Metuchen