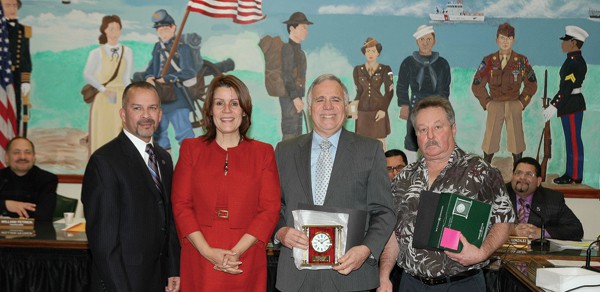 Caucus 1/7/13 & Council 1/9/13 Meeting—
PERTH AMBOY  —  At the 1/7/13 Caucus Meeting newly elected Councilman Fernando Irizarry wanted to know more about the ordinance pertaining to the hiring of Special II Police Officers.
B.A. Greg Fehrenbach said, "Officers would have to be requested by a judge during court sessions or sometimes they would be needed to escort someone to the bank making a deposit. The officers selected would have to have been active police officers or have been through the police academy. They would be allowed to carry firearms and most are often retired police officers. They will also work at a lower hourly rate for special security duty. In the courtrooms metal detectors were not operational because there were not enough personnel to man them."
Newly elected Councilwoman Lisa Nanton brought up the topic of making certain streets one-way to ease traffic congestion and perhaps utilizing bike lanes on some streets. The two streets mentioned were: Market and Fayette.
Nanton who is also President of the Royal Garden Club was concerned about all the weeds in the sands at the Sadowski Park Waterfront resulting from the recent hurricane.
Director of Public Works Frank Dann said, "We started working on the weeds in that section from the High Street Fishing Pier all the way to the War Memorial last year. There will be a fence built around that area while it's being worked on."
Business Administrator Greg Fehrenbach said, "We are seeking reimbursement from FEMA for temporary fencing at the waterfront."
Councilman Fernando Irizarry wanted to know what recommendations or strategies are there to change perceptions of cleanliness of the City.
Greg Fehrenbach responeded to Irizarry, "The Mayor is dismayed at the amount of litter in the City. We will meet with Public Works and Code Enforcement. There is a combination of 63 employees in Public Works. 55% – 60% are volunteers from the County who clean up after the people in the City.
Irizarry said, "If there's anything that the Department of Public Works needs, please let us know."
City Attorney Mark Blunda said, "Fines were increased; there was the Litter Critter Campaign but what it boils down to is some residents not caring enough."
Councilman Kenneth Gonzalez said, "We need to push more education and encourage our Board of Education to sponsor a community cleanup day. We should not only go to schools but we should also go to churches and other community organizations to participate."
Councilman Bill Petrick agreed with Gonzalez and he also encouraged going to private and Catholic Schools. "We must start them young."
Council President Joel Pabon said, "We keep concentrating on educating the kids but adults are the worst offenders. According to local businesses Public Works will clean up an area. Adults will soon litter the area that has just been cleaned and the kids are in school at the time. The entrance to Harbortown is terrible. It's strewn with litter. It's embarrassing."
Pabon also mentioned a beautiful building on Market and First Streets which has been marked with profanity and graffiti.
Councilwoman Nanton said that the Royal Garden Club was having a cleanup on Saturday, January 12, 2013 and invited the public to join them. She encouraged the residents to look for further cleanup dates on their Facebook page.
Councilman Kenneth Gonzalez concluded the meeting, "Perhaps we could utilize Police Auxiliary to issue fines for litter offenders."
At the 1/9/13 Council Meeting, local resident Dot Daniel spoke about the dangers of the bright blinking lights on the signs of businesses. She mentioned how dangerous it is to people who are epileptic which can cause them to have seizures. She said, "You may get complaints from these business owners about their lights but it is a health matter. My granddaughter who has had several brain operations, has had the best doctors caring for her, but a lot of parents don't. I'm asking Code Enforcement to look into this matter. My granddaughter closes her eyes when we approach these lights when she is in the car with me at night."
Local resident Debbie Foley went before the Council on behalf of her niece who is a single mom that works part time. Her niece was one of the people that was misplaced because of the fire that occurred in Harbortown in December 2010. Foley was concerned because even though her niece was relocated in another unit in Harbortown, her rent was raised $214 this year." Foley wanted to know if this was legal.
Business Administrator Greg Fehrenbach asked Foley if he can obtain a copy of her niece's name, phone number and original lease agreement.
Councilman Bill Petrick said, "The new lease needs be looked at, also."
Also during the public portion, Former Councilman Fernando Gonzalez who is also in the real estate business gave his expertise on what may have happened in regards to the lease. F. Gonzalez said, "Harbortown has been very cooperative in the past. Certain information may have been added to the lease to return to the original apartment. Because of the fire, some misplaced tenants may have been relocated to a different sized unit (whatever was available). Because of this, the contract may have been different. The Harbortown Management is a private entity, so they can do this."
Local resident Stanley Sierakowski who works for the County questioned the Council about new hirees. "We need to know a list of their salaries and their addresses. We also need more information on homeowner's grants."
City Attorney Mark Blunda and Business Administrator Greg Fehrenbach said the State has seized many of the records (during the Vas investigation) and they have not returned them to the City. "In response to Mr. Sierakowski in regards to the new hirees," Fehrenbach stated, "The Civil Service has to post jobs. There are certain confidential or unclassified jobs under Civil Service that don't necessarily have to be posted."
Resident Leslie Dominguez-Rodriguez said, "The Business Administrator is right. We should post all openings. I think Mr. Sierakowski thinks the jobs should be posted in-house and in the newspapers for new hirees."
Local resident Ricky Avelis questioned the recent elections. "There should be a better way to run elections and perhaps runoff elections should be held. Some states have automatic runoffs. This town was divided and that is why there was so many candidates running."
Local resident, Ana Mascenik who ran for City Council said, "We can go back to partisan elections and we should think about going back to them."
Maria Garcia who has run for Council in the past and is now a member of the Board of Education talked about new hirees. Garcia, who was very critical of the Vas administration said that she fought the previous (Vas) administration for eighteen years. "I never heard others ask about hirees and their salaries. If someone wants to know this information, all they have to do is wait for the budget to come out. Addresses of employees should never be published. It is very dangerous now. We should concentrate on the qualifications of personnel – not their residency. I don't think the state or county releases relationships of hirees to other government employees."
Business Administrator Greg Fehrenbach said, "The City Council has the requirements when hiring new employees. The City Council can give waivers for any new hirees who do not live in Perth Amboy as long as they meet the requirements."
Fehrenbach added, "There is also a policy on nepotism in existence."
Councilman Kenneth Gonzalez asked Fehrenbach if he could give an updated report on the parking deck repairs that due to damage from Superstorm Sandy.
Fehrenbach said, "A majority of the work is completed. The window curtain walls should be completed in about eight weeks. The contractor is trying to correct the lighting situation. There has to be rewiring of the first wall of the deck. The 1970 wire is corroded and the electrical wiring must be updated."
Councilman Gonzalez also said that we need to have an organized plan for tourism attractions in the City."
Councilwoman Lisa Nanton responded to Resident Ricky Avelis in regards to the 2012 election. Nanton said, "In South Amboy the Mayor only won by one vote."
Councilman Bill Petrick added to Lisa Nanton's comments in regards to the bicycle paths. He said, "Besides the bicycle paths we should also look into walking paths and solar stop signs. Woodbridge has them."
Councilman Joel Pabon was concerned about the stop sign at the end of Madison Avenue by the Wilentz School. "A lot of vehicles, especially the ones that are transporting sand are not stopping at that sign. The trucks are up high and the children are very small. The truck drivers can't see the kids. For those who put graffiti on buildings, they should be doing community service to remove it."
At the very end of the meeting, Councilwoman Lisa Nanton said, "Many alternate side of the street parking signs are faded and could something be done about it?"
The response from the department head was, "Unfortunately we are way behind on that project."