By Lt. Anton J. Massopust PAFD—
PERTH AMBOY — Yesterday morning I received the sad news that Art Brown had passed away (Age 100 years. & 2 months). My heartfelt condolences to his family. His loss is felt by the Perth Amboy Fire Department, his family and all who knew him.
Arthur was a past Chief of the Perth Amboy Fire Department. (Assistant Chief for 2 years, then Chief) and Life Member of the First Aid Squad. But he continued to serve as an active fireman in the City of Perth Amboy for many, many years. I knew Arthur as a firefighter and as head custodian in Perth Amboy High School where I worked for many, many years.
He was always a gentleman and was very conscientious about everything he did. As a friend and advisor he was outstanding. Never did he shirk at responsibility and for many years gave the Fire Department of Perth Amboy and First Aid Squad service and advice.
His whole family had a legacy of fire fighting. His father had died in the line of duty. Arthur Brown was a member of Eagle Engine Company #4, but in his heart and soul he was a fireman in the City of Perth Amboy, always participating 100%. He was the Grand Marshall of our 125th anniversary.
In his later years he walked with a walker. When I saw him at the Barge and the Fireman's Convention in Wildwood I found him on the second floor. I asked him how he got up there. He said, "One step at a time."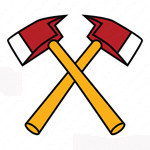 It is this spirit that he carried all through his life, never giving up. I had the privilege of being the Master of Ceremonies at his retirement dinner from Perth Amboy High School.
In the summation of my remarks that evening, I said what my mother said about Art Brown, "Art Brown is a fine man., and I will summarize my remarks by saying, "Art Brown was a fine man. God rest his soul."