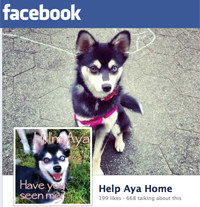 PERTH AMBOY — On Sat. January 18, approximately 20 Alaskan Klee Kai owners and friends, along with their dogs, drove from across the region (VA, DC, MD, PA…) to help in the search for Aya, a 1.5 year old female Alaskan Klee Kai. These owners, for the most part, are only connected by the common love for the Alaskan Klee Kai Breed.
While her owner was visiting the area, Aya escaped a fenced backyard and has been missing since January 12. There have been several sightings, with the last being near RT 35 leading into Perth Amboy. Aya is microchipped and was wearing her proper identification collar.
So often throughout history, animals have saved the lives of humans. Here is a story of people wanting and willing to drive, give up their time and help in the hunt for this dog.
More information can be found at: Danny (Dog Owner) 267-970-4745, Patty (Breeder of Aya) 443-254-4635 or at www.facebook.com/HelpAyaHome