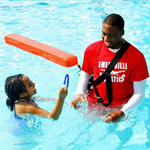 Second Grade Water Safety Learn to Swim Program
PERTH AMBOY – The RARITAN BAY AREA YMCA and the Perth Amboy Board of Education share a common goal to inspire children to LEARN, GROW, and THRIVE. The organizations have agreed to implement a 2nd Grade Water Safety Learn to Swim Program. The curriculum will educate and protect children in and around water. In this collaboration students will learn basic swimming skills, practice safety habits, help remind parents of the benefits and dangers of water play and the need to constantly supervise children with access to water. "We are thrilled to offer this wonderful program to our second grade students, thanks to our partnership with the Y.
Our hope is that all children in Perth Amboy will become strong, safe swimmers and be able to enjoy sports and recreation in and around the water. This is a great addition to our physical education program that will certainly contribute to creating healthy bodies and minds for all students", stated Dr. Janine Caffrey, Superintendent of Perth Amboy Schools.
Each child will be acquainted with the water and provided the basic understanding of water survival through demonstration, instruction and play. Children will watch age appropriate fun videos designed to illustrate drown proof techniques. Each student will complete assignments and have the opportunity to demonstrate their knowledge and water skills."It is our duty to educate students on the benefits and hazards of water play while developing confident, intellectual, children of character. We will engage young people in physical activity while learning safety skills that can save lives", stated Steve Jobin President & CEO of the RARITAN BAY AREA YMCA.
For more information please contact Steve Jobin, President & CEO at the RARITAN BAY AREA YMCA, 732-442-3632 x6501 or Dr. Janine Caffrey, Superintendent of Perth Amboy Schools, 732-376-6201
Press Release January 22, 2013