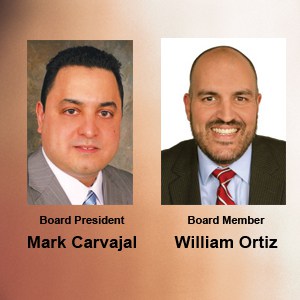 Staying Focused; Carvajal Keeps Board Meeting on Track
PERTH AMBOY — At the January 24, 2013 Board of Education Meeting, President Mark Carvajal had a mission statement projected on a screen behind the Board Members. There were four points:
1.) Makes every decision based on what is best for the kids.
2.) Boldly examines data to learn the truth of our progress.
3.) Fearlessly implements any and all strategies that have promise to move us towards our goals.
4.) Expects all students that graduate from High School be prepared for college and/or careers.
Carvajal planned to have those four items projected on the screen at every Board Meeting.
During his President's report Carvajal thanked his fellow Board Members for being very cooperative.
Board Committee Meetings are private but he suggested having an additional meetings (for the public to be a part of similar to the City Council Caucus Meetings).
Carvajal also addressed Board Members who were head of their prospective committees. To Milady Tejeda he told her, "You are doing a good job, but I want you to reach out more to the PTO's."
To new Board Member, William Ortiz, "Look into Channel 34 and the technology that they are using."
To Dianne Roman, "We need to look at multiple choices and assessments of programs already in place."
To all the Board Members he said, "The selection of the Board Attorney should be open to the public."
Addressing Israel Varela who is the chair of the Buildings and Grounds Committee. Carvajal said, "I have a three page list of repairs that need to be made." Varela said, "I know. The Ceres School just got the windows and roof done, but I am not allowed in school buildings."
Carvajal responded that he and the Superintendent will have a conversation to get Varela to be able to visit the schools as long as the proper guidelines are followed.
Carvajal also said, "We need to do a lot more with shared services and the chances of getting a new high school are slim to none. But we are in a crisis level and we have to keep trying to do whatever we can. As far as the litigation against the Superintendent, Puccio and I will be working on that."
Carvajal then asked for a motion for full Board Committee Meetings. Israel Varela moved this motion and it was seconded by Vice President Kenneth Puccio.
Board Member William Ortiz wanted to put to rest a rumor circulating about a confrontation with a student when he was a substitute teacher.
He read a statement (see statement obtained by Amboy Guardian; page 11) to clear up any misunderstandings.
Fellow Board Member Kenneth Puccio who is also on the police force happened to be at the High School when this incident took place with Ortiz. Puccio said, "I was at the school on another matter having nothing to do with what happened with Mr. Ortiz. Ortiz was not handcuffed nor was he arrested."
Also on the agenda was the appointing Karen Moffatt Principal at the Richardson School where she is currently the acting Principal. The motion did not pass.
During the public portion resident Stanley Sierakowski asked about a program that was instituted last year called the Interdistrict Program. This program allows students to attend out of town public schools within a twenty mile radius. He wanted to know if Perth Amboy was looking into that program.
Board Member Maria Garcia said, "Middlesex County does not qualify for intercounty placement of students."
At the end of the meeting, Sierakowski gave a copy of articles about this program to the Amboy Guardian Paper.
Sierakowski also drew ire from Superintendent Janine Walker Caffrey when he stated, "Family structure is the most important factor in determining a student's success. Not just buildings and money."
Superintendent Caffrey responded to Sierakowski's remarks by saying, "Perth Amboy's Children and families are some of the strongest I have ever known. How dare someone disparage these families by these remarks!"
St. Mary's School was also discussed. A gentleman attending the meeting by the name of Mr. Lincoln said that they are spending a million dollars a year at that school. "And a lot of equipment at that school doesn't work."
Resident Leslie Dominguez-Rodriguez agreed with Mr. Lincoln and said, "The Building (St. Mary's) is not equipped for learning."