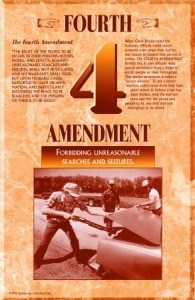 When are your constitutional rights violated? This happened in New York City at one time when the N.Y.P.D. was stopping and searching the citizens in New York City. It was a stop and frisk program called TAP or the Trespass Affidavit Program. Now, the Stop and Frisk was done without asking any questions or any cause.
Some say it was wrong or so-called unconstitutional by the N.Y.P.D. So a concerned citizen took this matter to a Federal Court. It was Ligon vs. the City of New York. Now what happened in the courtroom was a shocker to the N.Y.P.D. The Judge told the court this search and frisk was unconstitutional under the Fourth Amendment.
Also that it violated the people's civil rights and the N.Y.P.D. should have asked questions first, then develop reasonable suspicion later. Now as a fact of so-called concern was this stop-and-frisk – use-to-get illegal guns off the streets? But at what cost to the City of New York in lawsuits.
Yes, New York City has an illegal gun problem, but how do you stop it without violating the Constitution?
Orlando "Wildman" Perez
Perth Amboy