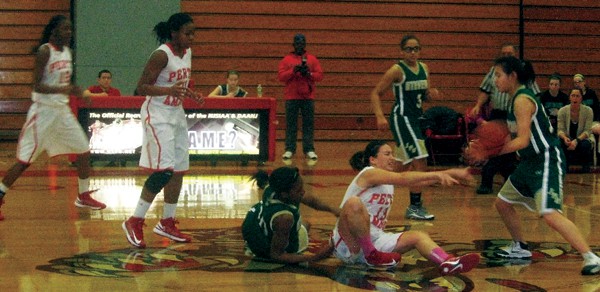 By Katherine Massopust —
PERTH AMBOY — The PAHS Girls Varsity Basketball Team defeated JP Stevens this past Saturday, February 2nd. Both teams got off to an aggressive start with no score in the first 2 minutes of the game. After a time out, the Panthers overpowered the Hawks and dominated the entire game. The score was 40 – 12 with the Panthers on top at halftime. The final score was 79 – 34 with the Lady Panthers victorious. Janaysia James was the tops scorer with 17 points.
The two Co-Head Coaches of the Lady Panthers are Mike Manfre and Patrick Ricks and the Assistant Coach is Leezenia Cruz. "The girls already won their conference," Manfre states.
The team will play this Thursday, February 7th at Woodbridge High School which will determine if the Panthers will win the Red Division. "If they lose, they are tie for the division," Manfre states.
There's a meeting on February 8th to determine where the teams will be seeded. The Panthers will play in the county tournament on Thursday, February 14th with a TBD opponent. They will also play in the state tournament on a date TBD with an opponent TBD.
Previously the Girls Varsity Basketball Team have won the State Championship in the 2006-2007 season. The Amboy Guardian wishes the 2012-2013 Girls Varsity Basketball Team the best in their upcoming games.