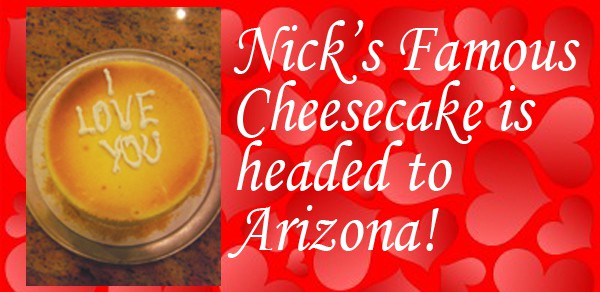 EDISON — Karl Giranth wanted to do something special for his mother Gina Giranth and girlfriend Jessi Lavish, but he was in New Jersey on business and they lived in Arizona. He loved the cheesecake he discovered at Pantagis Diner located at 3126 Woodbridge Ave in Edison NJ and so asked Nick Pantagis if his cheesecake could be shipped before Valentine's Day. Nick referred him to his son Stephen Pantagis who was more than happy to oblige.
"This is probably the first Cheesecake made by a Greek diner ever shipped across the country! Pantagis Diner is now well known for its bakery and especially it's Cheesecake's. The recipe is a life work for Nick's Pantagis; he has been perfecting this creamy dessert for over 50 years!
According to Nick's son Stephen "Pantagis diner which father and son opened in 2008 sells more cheesecake than any diner in the state of New Jersey. We have had a lot of requests for shipping Nick's Famous cheesecakes but only recently have we found the right packaging solution to make Karl's dream of sending something sweet to his two Valentine's.
Karl wanted one simple message on the cheesecakes. For both his mom and his girlfriend. The baker wrote "I Love You."
Stephen Nick Pantagis
Press Release