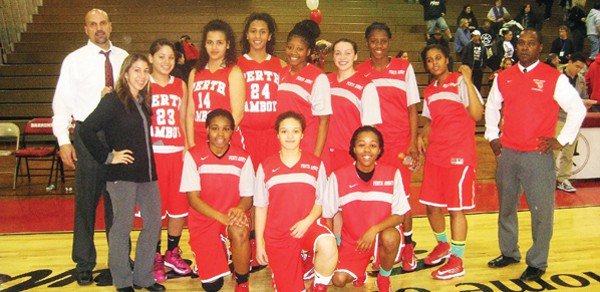 By Katherine Massopust—
PERTH AMBOY/WOODBRIDGE – The Lady Panthers played a tough game against rival Woodbridge Barrons to clinch the Red Division on Thursday, February 7, 2013.


The PAHS Girls Varsity Basketball Team defeated Woodbridge on Tuesday, February 7th at Woodbridge High School 58-51 clinching the Red Division. *Photos by Katherine Massopust
Perth Amboy went on top of Woodbridge at the end of the first half with a three pointer by Bianca Feliciano to make the score 25 -24.
The Panthers came out strong in the beginning of the third period. By the end of the third period Perth Amboy was on top with a score of 41-32. Woodbridge made a valiant effort to come back in the fourth period. With 1:23 left on the clock the Barrons called a time out and came out with a man-to-man full court press, fouling four Panthers (Kenya Adams, Christina Clark, Nadirah Wilson and Kaylanna Ricks) in the process. Christina Clark was fouled again with 5.69 seconds left on the clock. Clark made her first foul shot, but missed her second free throw. The Barrons rebounded but Woodbridge was unable to catch up with a final score of Perth Amboy 58, Woodbridge 51.
Janaysia James scored 18 points and grabbed 10 rebounds and Nadirah Wilson scored 14 points for Perth Amboy. Perth Amboy clinched the Red Division with a record of 15 wins and 2 loses. The Panthers will be seeded in both the State and County Tournaments.