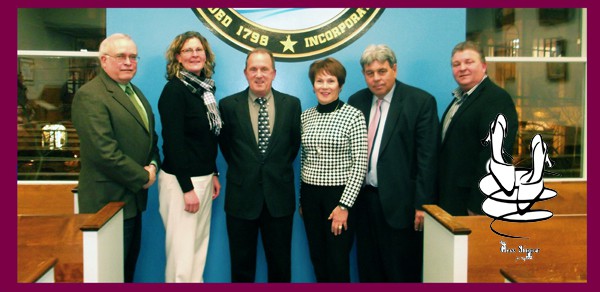 By Joseph L. Kuchie —
Mayor Fred Henry, Councilwoman Christine Noble, Council President Joe Connors, Councilwoman Zusette Dato, Councilman Mickey Gross, Councilman Donald Applegate . *Photo by Joseph L. Kuchie
SOUTH AMBOY — South Amboy council member Zusette Dato thanked local sponsors for taking part in the Glass Slipper Project during last week's council meeting.
The Glass Slipper Project was held at Old Bridge High School on Feb. 16 and 17 to assist high school students from Old Bridge and South Amboy prepare for prom. Local retailers and businesses donated new and slightly worn prom dresses, accessories, and discounted tuxedo rentals to the boutique.
"High school students were able to obtain proper attire for no cost or little cost," Dato said in her opening comments. "We were asked by Old Bridge to participate and we did go down there on Saturday and Sunday. We did get donations from businesses in town and I'd like to thank them. "
The following were the local South Amboy businesses that donated to the Glass Slipper Project: Fittings by Sheila, Carol's Beauty Shop, Kimber Dry Cleaners, My Greener Dry Cleaner.
Both Dato and councilwoman Christine Noble were thanked by the organization on the Glass Slipper Project Facebook page for their hard work leading up to the weekend.