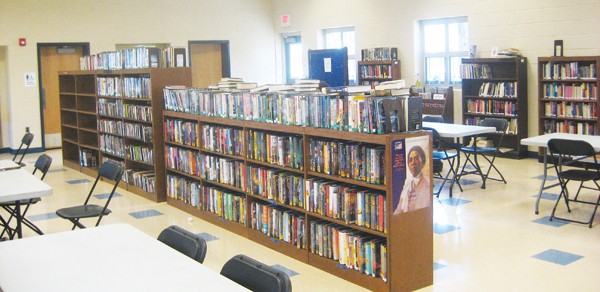 Temporary Move to Sadowski Parkway
Press Release 3/4/13—
PERTH AMBOY — Mayor Wilda Diaz announces Phase 1 of the $10 million library restoration project, as the main library has temporarily relocated to the Brighton Avenue Community Center.
The main library (upper level) located on 196 Jefferson Street has moved to the newly completed 3,200 square foot waterfront community center at 56 Brighton Avenue, as it prepares for interior construction until the summer months.
The $1.6+ million construction project will restore many of the original features and details to the main level of the building. The project overview is stated below.
• The main entrance: New interior, enclosed vestibule area that was part of the original construction. In addition, a large central skylight in the library will be returned to its original function highlighting the new main desk area.
• The interior work: New flooring, wall finishes and ceiling finishes. All new lighting will be provided with an appropriate upgrade to the electrical service. The mechanical heating units will also be replaced.
• The exterior work: Construction of a small addition to the rear of the building for an ADA Compliant public facility and an appropriate interconnecting stair between the main and lower level.
Additionally, funding provided by the Middlesex County Board of Chosen Freeholders of $325,000 supported the replacement of the entire roof last year and energy efficient windows, including the replacement of the monumental front windows. This façade update improves energy efficiency by reducing heating costs. The new windows improve conditions for public reading spaces such as reducing glare and improving acoustic conditions, as well as beautifying the downtown area. The window replacement will be completed this week.
The Main Library is expected to return to the renovated main level during the summer of 2013. The Lower Level which includes the Children's Library will remain in full operation on Jefferson Street during the duration of the project after mid-March.
Due to the relocation and space availability, resources are limited. Library card holders are encouraged to utilize inter-library loan services during the renovation. Winter hours will remain the same. The following services will be available to the public:
• Full on-site staff
• Copier, printer and computer use
• Daily news prints and magazine section
• The Jefferson Street book drop will remain in use
The Middlesex County Freeholders, Library Board of Trustees, Friends of the Library, Celebrate Perth Amboy: Save Our Carnegies Library Committee, corporate/personal donations, school fundraisers and capital improvement funds have all contributed to this effort. Funding is still being identified for the future project phases and donations are being accepted. For additional information, please contact the Perth Amboy Public Library at (732) 826-2600 or visit the Brighton Avenue Community Center located on 56 Brighton Avenue.
Visit the Perth Amboy Public Library Facebook page at: http://www.facebook.com/pages/Perth-Amboy-Public-Library/420891164669525. For additional information about the Perth Amboy Public Library or the City of Perth Amboy, please visit: www.ci.perthamboy.nj.us.