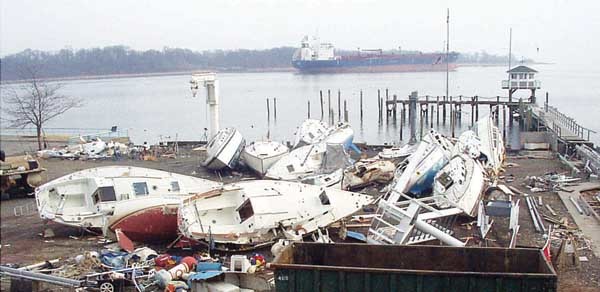 By Joe Bayona—
PERTH AMBOY – On Sunday March 3rd the Raritan Yacht Club held its annual open house. The purpose of the open house, according to membership committee chairman Ed Blumenthal, is to introduce the community to the yacht club and to attract new members. The clubs purpose is to introduce people to sailing and boating. Most people think you have to own a boat to join, but the truth is that 60% to 70 % of members actually own boats, 30% to 40 % do not. "When I first joined, I didn't own a boat," said Rear Commodore Bob Wardlow, "I spent my first two years as a mate on another members boat learning sailing techniques".
The Raritan Yacht Club also has two programs for juniors. The Junior Program for the sons and daughters of members and the Summer Sailing Program which is open to the community. The programs are run by Gary Myer. The junior and summer sailing programs are designed to introduce the kids to sailing, the sea, and most of all safety, safety being first and foremost. "When I tell a kid to jump in the water they do, they have no idea that I want them to know what to do if they fall off the boat, and how to get back in" said Myer. "They are just having fun." Which is what the programs are mostly about, kids having fun. The club also sponsors 10 community children for the SSP. These 10 children attend the program absolutely free.
The Raritan Yacht Club took a hit from Super Storm Sandy. Although the building itself only suffered a broken door and destruction of an outdoor spiral staircase, Sandy caused 1.4 million dollars worth of damage out in the "yard" where 30+ boats were destroyed along with three buildings, one of which stored the gear and paraphernalia used on the boats. All of the boats for the youth programs were destroyed. Approximately 100 member boats that were moored at other marinas throughout the area were also destroyed according to Greg Gaydos, a member of the board of governors. The club had three launches used to ferry members to their boats mooring, one was completely destroyed and two suffered significant damage. Some, but not all, of the damage will be covered by insurance and they are still waiting for a response from FEMA.
Despite the damage the club intends to make repairs and be up and running by May 1st in time for the Junior Programs.
For people who want to know if sailing is for them or have always wanted to sail, the Raritan Yacht Club is sponsoring an "Introduction to Sailing" on June 15th and 29th that is open to the public, adults 21 or older, and is free.
For more information about the Raritan Yacht Club and its programs you can go to their website at www.ryc.org.