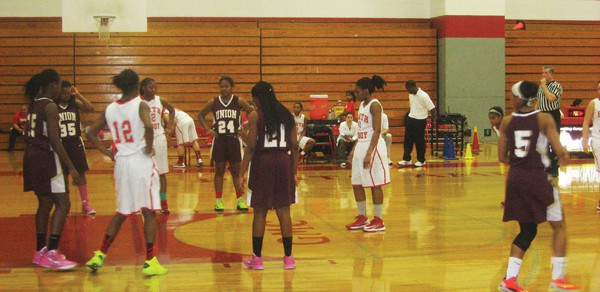 By Katherine Massopust —
PERTH AMBOY — It was a hard fought battle for the Lady Panthers vs. the Union Farmers in the NJSIAA Tournament, First Round, North Jersey, Section 2, Group 4 – Girls Basketball on Monday, February 25, 2013. The first point in the game was scored by Union with 5:50 minutes left on the clock in the first period. By halftime, Perth Amboy was ahead with a score of 25 – 22. By the 3rd period it was Perth Amboy 33, Union 36. With 3:33 minutes left on the clock, Perth Amboy put on a full court press. The score was tied 49-49 at the end of the fourth period. The game went into overtime with 4:00 minutes left on the clock. Union outscored Perth Amboy in overtime with a final score of Perth Amboy 60, Union 61. The Union Farmers advanced in the state tournament.
The Perth Amboy Panthers finished the season with a record of 17-4.
The Perth Amboy Panthers play the Union Farmers in the NJSIAA Tournament, First Round. Nadirah Wilson takes a foul shot. *Photos by Katherine Massopust