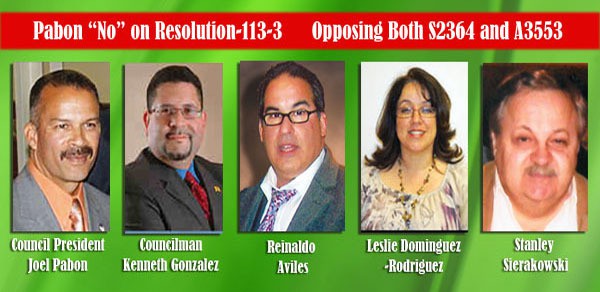 Votes "No" on Resolution-113-3 Opposing Both S2364 and A3553
PERTH AMBOY – Several residents spoke about bills passed by the Senate and Assembly which will allow New Jersey residents to vote early.
WHAT IS RESOLUTION S2364/A3553
Local resident Stanley Sierakowski said that the State and County would pick up most of the cost associated with early voting. Sierakowski also wanted to know which Council Members asked to have this resolution put on the agenda.
City Clerk Elaine Jasko said that this was drafted as a proposal by the League of Municipalities.
Resident Ricky Aviles urged the council to table R-113. "The states that have more progressive voting laws have a higher voter turnout. I don't mind paying more money for more democracy in voting. If you expand the voting time frame more people will come out. You should err on side of more voter participation – not less!"
Perth Amboy Democratic Chairwoman Leslie Dominguez-Rodriguez agreed with Aviles, that this resolution should be tabled. "Let's see what's going on in other states. We have to educate voters on partisan and non-partisan elections. It's best if we table this resolution.
Council President Joel Pabon said, "The reason he voted no on R-113 is that he is in favor of early voting – anything to help increase the residents voter participation."
"Councilman Kenneth Gonzalez said, "We already have vote by mail which cuts down on voter fraud. Voting "Yes" also will save on the City's finances. The two bills will duplicate what is already in place."
After the resolution was passed with the "Yes" votes by Gonzalez, Petrick, Nanton and Irizarry, resident Ricky Aviles spoke again addressing Councilman Gonzalez first. "I appreciate that at least Mr. Gonzalez (although I didn't agree with him) that he gave a reason why he voted for R-113." Aviles also appreciated Council President Joel Pabon, "For you giving your reason for voting "No." I would like to know from each of you (Council Members) the reasons you voted yes to this resolution."
Councilwoman Lisa Nanton said, "I didn't feel a need to explain, but it would cost the City, plus there would be a duplication of services."
Councilman Bill Petrick said, "He agreed with fellow Councilman Kenneth Gonzalez's explanation for voting "Yes" on R-113."
Leslie Dominguez-Rodriguez stated, "Votes by mail get lost and you also have the problem of change of addresses. Early voting will not cost Perth Amboy a dime."