WOODBRIDGE — Get ready for a fun-filled Easter Celebration Saturday, March 30 at Parker Press Park, 400 Rahway Ave., Woodbridge. Egg Hunt 10 a.m. to 12 p.m.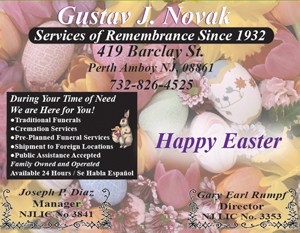 Easter Parade & Pictures with the Easter Bunny from 2 p.m. to 4 p.m. Wear your pretty Bonnet, dress up in your Fancy Clothes and join us at the Park. Prizes will be given. Pictures sponsored by Walgreens. We hope to see you there.
For more info call the Woodbridge Recreation Dept. at 732-596-4048. For weather updates call 732-602-6045.