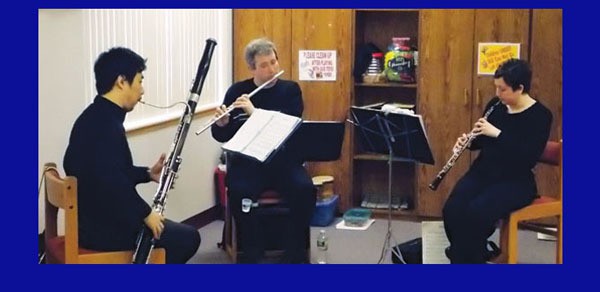 By Beverly Samuelson—
SOUTH AMBOY — Sadie Pope Dowdell Library was the place for an afternoon of spectacular music. The City Winds Trio performed a wonderful music experience for everyone of all ages. The trio members are Meredyth Coleman on the Oboe, Crispian Fordham on the Flute and Yuki Higaski on the Bassoon. The trio has performed at the prestigious Trinity Church, Cathedral St. John Divine and St. Paul's Chapel in New York.
The event is part of a program offered by the Middlesex County Cultural & Heritage Commission, the Middlesex County Board of Chosen Freeholders with assistance thru a grant provided by New Jersey State Council on the Arts/Dept. of State. The trio performed many Classical and Ragtime pieces. We heard the music of Mozart and many others.
Under the direction of Elaine R. Gaber, Director and the Library Board of Trustees, South Amboy residents are privileged to have the opportunity to many events at the library. Ms. Gaber, her staff and the Board of Trustees are working hard to bring the residents the best in programs including downloadable books, a computer room, along with having the library as the Cultural Center for the community. As part of their goal, the library has been developing innovative programs in visual and performing arts which will provide a higher level of cultural events.
I can certainly say, with programming like this, South Amboy will soon become the cultural hub of Middlesex County. Keep your eyes open for more exciting events. Spend an afternoon at the Sadie Pope Dowdell Library in South Amboy, it will be time well spent.