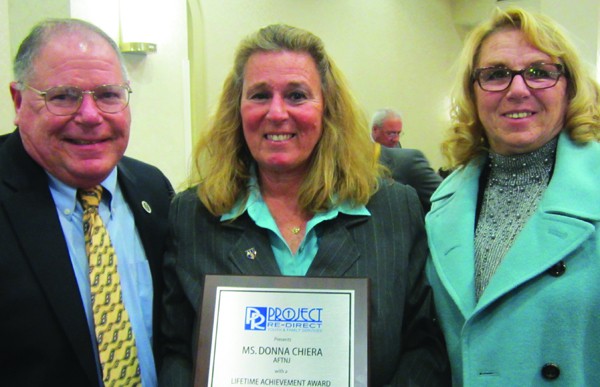 News Release 3/25/2013—
PERTH AMBOY — In addition to running Saturday school programs, Project Redirect deals with difficult issues such as gang violence, AIDS, youth employment, school violence, child abuse and juvenile delinquency.
The non-profit recognized Donna M. Chiera with a lifetime achievement award for her commitment to working with children. Chiera spent more than three decades as a special-needs classroom teacher and is a passionate advocate for education as President of both the American Federation of Teachers New Jersey and the Perth Amboy Federation. Chiera works to enact reform that is beneficial to students and "fair to adults" believing that the best learning environment is one where values such as mutual professional respect bond working relationships.
Chiera received the award March 21 in Newark. "I appreciate any organization that aims to improve how we educate our children," said Chiera. "We need more organizations focused on building community support for students." Photo: Norm Tanciewitz, Donna M. Chiera and Sandy Miholics *Photo Submitted