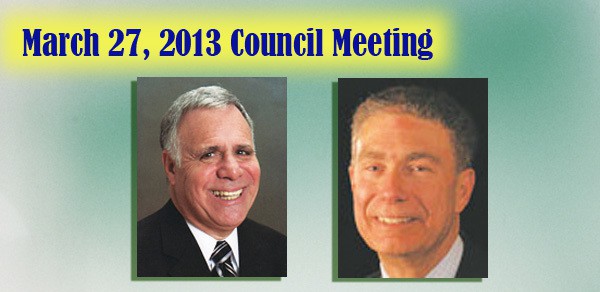 By Katherine Massopust—
PERTH AMBOY — Former Councilman Fernando Gonzalez spoke at the March 27, 2013 Council Meeting regarding the Birdsall Services Group. This company previously had been awarded a contract for professional engineering services for an asbestos and lead study at the Perth Amboy Free Public Library. On the agenda was a resolution for payment to the company for $1,250 for some of the work that they had done (R-136).
F. Gonzalez stated that seven members of the Birdsall Company had been indicted for making illegal campaign contributions to political candidates.
"You should pay close attention before you do something with this company."
Council President Joel Pabon stated, "These are past items to pay that we are paying now."
F. Gonzalez asked, "Do we have a policy regarding hiring minority firms? I am concerned that minority engineering firms don't even get a chance. They don't have the financial resources that larger firms have."
B.A. Greg Fehrenbach stated that "9.9 out of 10 times the lowest responsible bidder gets the contract."
F. Gonzalez said, "When I see change order ordinances you can underbid. I don't think that minority firms can compete with larger companies."
Resident Stanley Sierakowski stated that to clean up asbestos is very labor intensive, "Does Birdsall have any other current contracts with us?"
B.A. Greg Fehrenbach stated that this is the only contract that the City had with them in the last four years.
Fehrenbach referred to the fact that two more asbestos sites were found after the initial inspection. "There were two locations to identify asbestos. The contract has to proceed," Fehrenbach stated.
Fehrenbach continued to say, "The people who had been indicted were several principals that left the company. One manager is still with them."
Resident Reinaldo Aviles stated, "The real corruption is in R-139, R-140, and R-141." These three resolutions are authorizing payments of a total $559,773 to Safeco Insurance Company for completing surety for Tak Construction, Inc for construction of the public safety complex.
"$1,250 doesn't compare. That's where the real money is being wasted. Is there an end in sight?"
Council President Joel Pabon stated, "We're hoping there is an end in sight. These payments will bring us closer."
Resident Alan Silber asked if reference checks are made when considering contractors.
Fehrenbach answered, "We do reference checks and see how well they performed in the past. We do not do criminal background checks on individuals in the companies."
Councilman Kenneth Gonzalez stated, "In some cases if an individual has been convicted of a crime, the individual is not allowed to put in bids."
Fehrenbach then added, "They have already done a majority of the work. There would be problems if we were to change contractors."
Councilman Bill Petrick asked, "If we drop this company, can they sue us?"
City Attorney Mark Blunda was not present but a representative from his law firm answered, "Possibly – they've been indicted – not convicted."
Resolution R-136 passed with everyone voting yes except Councilman Fernando Irizarry who abstained.