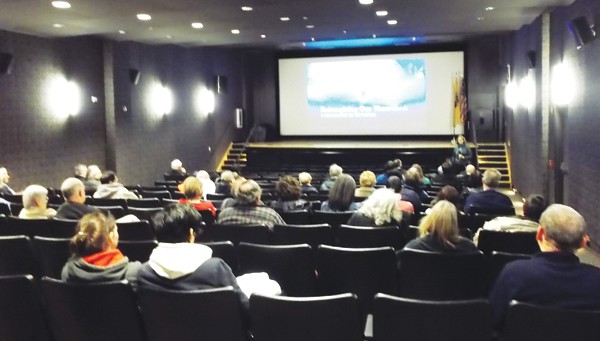 By Tracy Jordan—
PERTH AMBOY — Fifty people attended a free viewing of the new documentary, Re-Imaging Our Watershed; Renaissance on the Raritan. Thank you YMCA for use of your fantastic theater. In this film, the Perth Amboy High School Sailing Team makes an appearance and our own Bill Schultz, Raritan Riverkeeper and Barry Rosengarten, BID/UEZ Chair, are interviewed. Michael George had donated his time, fuel and boat to take the film crew all around the bay and there are some nice clips of him. This event was hosted by the Rutgers Sustainable Raritan River Initiative. Dr. Judy Shaw, Director, introduced the film. Chief Hydrologist John Jengo also showed a brief documentary depicting unused dam removals up and down the Raritan which have brought many improvements to water flow, water quality, safety and wildlife, to name a few. A lively Q&A followed the films and people stayed around afterwards talking about the many topics all related to the river. It is hoped that this film will be on PBS Channel 13 soon.
If you are wondering, what is the Sustainable Raritan River Initiative? Here is an introduction to their work, found at www.raritan.rutgers.edu.
The members of the Raritan River Collaborative, which the City of Perth Amboy can join, are working together to achieve the highest quality for the waters and riparian areas of the Raritan River basin. Each organization contributes to the overall restoration and preservation of the River, and collectively they are changing the conversation about the future of the river. The Collaborative set goals for a regional approach, embraced by state and federal organizations and implemented at the local and county level:
• Improved water quality and management of water quantity
• Habitat Restoration
• Public Access
• Site Remediation and Pollution Prevention
• Balanced Redevelopment
Should there be more water quality testing throughout the system? Greater public access? Should we have a greenway to the Bay? Can we 'clean it up and green it up' through remediation and sustainable redevelopment practices? Can we enjoy our heritage river resource and have economic growth?
The website asks people to join efforts to work together to bring the financial resources to the region – and have the conversations necessary – to coordinate efforts so we are all 'rowing' in the same direction! To join the effort, please send your inquiry to raritan@ejb.rutgers.edu.