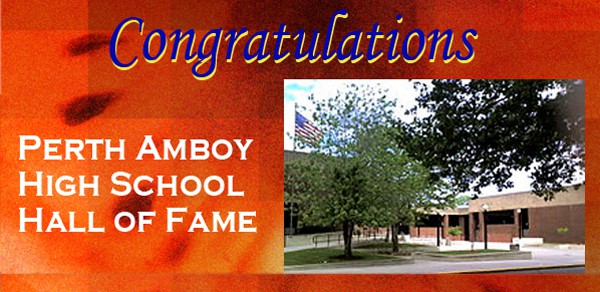 Congratulations to the 2013 Inductees to the Perth Amboy High School Hall of Fame:
Ira Zu Stess, Class of 1934 — Military Service
Jose J. Garica, Class of 1998 — Athletics/Community Service
David Weiss, Class of 1971 — Humanities/Government
Evelyn Cruz Carofilis, Class of 1974 — Criminal Justice
Kyle Grooms, Class of 1987 — Entertainment
Michael J. Chumer, Class of 1960 — Technology/Research
_________________________________________
28th Annual Hall of Fame Induction & Dinner
May 3, 2013
Plaque Unveiling Ceremony at the Perth Amboy High School Main Foyer 9:30 AM
Dinner at 5:00 PM at Perth Amboy High School, Perth Amboy, NJ
Tickets are $45.00 per person
Contact Anita Dowd or Karla Flores     732-376-6030, ext. 23-463
karlflores@paps.net or anitdowd@paps.net
___________________________________________
On May 3, 2013, the Hall of Fame inductees will meet at Perth Amboy High School for a gathering breakfast and then honored, during the plaque unveiling on the Hall of Fame wall in the school\'s main foyer. The inductees will then visit classes and speak with students, and/or will be videotaped on Channel 34 to discuss their accomplishments and professions.
This 28th annual event will culminate with a dinner at the Perth Amboy High School Dining Hall. The dinner will highlight the accomplishments of the inductees who will offer a few words of thanks and encouragement.
The Perth Amboy High School Hall of Fame honors outstanding graduates from Perth Amboy High School who have excelled in community achievement and service. The honorees serve as an inspiration to the students of Perth Amboy High School and act as an incentive for them to set goals necessary for success.