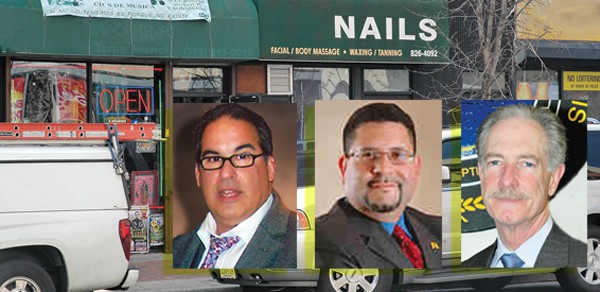 Aviles Defends Businesses
PERTH AMBOY — At the Caucus Meeting of 3/25/13 one of the Councilmen asked Mark Blunda if there can be limits on the amounts of licenses and permits issued to new businesses when there are already an over abundance of the same kind of businesses existing.
At the March 27 City Council Meeting, resident Reinaldo Aviles stated that if these types of businesses are successful in Perth Amboy there is nothing wrong with healthy competition. He said that people that come into Amboy are expecting a certain type of business then let it be.
At a previous Council Meeting some of the Council Members said that local established businesses wondered about competitive businesses opening up unexpectedly close to their business. These established businesses were concerned if the new businesses and permits issued.
Blunda said that municipalities can limit the amount of licenses and permits issued to the same types of businesses. "Ours can also be restricted."
Blunda further stated that existing businesses can be grandfathered in. New businesses are subject to new regulations.
Police Chief Benjamin Ruiz spoke at a previous meeting in references to some businesses that have been investigated by State or Health Agencies and answered additional questions in an interview the Amboy Guardian at a later date.
The Inspectors make sure that businesses are following proper policies.
When a business is under suspicions of unlawful practices the inspectors notify the police department. The Perth Amboy Police work in conjunction with these agencies.
Our detectives accompany the inspectors when illegal activity is suspected. The Police Department will have officers available whenever we get the call from them. We never close down
One example that he gave concerned barber shops. Not only is the owner supposed to have a license if they will be working there, but each individual that they employ must have their own license.
"Some businesses have been temporarily closed down due to violations concerning illegal drug activity," Ruiz stated.
When questioned if the police ever went into a business very late at night to investigate illegal activity, Ruiz replied,
When a business is open very late some of the illegal activities may include gambling besides sometimes drug related issues.