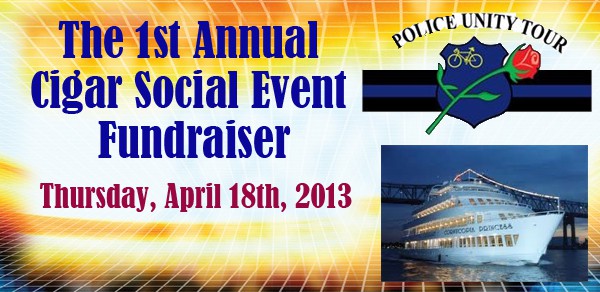 When: Thursday, April 18th, 2013
Where: The Cornucopia Princess, 401 Riverview Dr., Perth Amboy, NJ 08861
Time: Evening begins at 6:00pm (Ship will not be sailing)
Cost: *$100.00 advance tickets plus Raffle Prizes
____________________________________
Evening will be complimented with your own exclusive package of cigars by our very own, local establishment who will also be rolling fresh cigars.
Evening also includes: COCKTAIL HOUR, BUFFET STYLE DINNER, and HOURS OPEN BAR!!
ALVAREZ CIGARS: Alvarez Cigars has combined Nicaraguan Viso, Seco and Ligero tobaccos from Estelí and the Jalapa Valley to produce the one of a kind blend used in all our premium hand rolled cigars. This one of a kind blend along with our Habano (medium bodied) and Connecticut (smooth bodied) wrappers provide a tantalizing and complex flavor, setting the tone for a relaxing, enjoyable smoking experience.
Shirts are still for sale for anyone interested by contacting Sgt. Breyta at (732) 324-3819.
The primary purpose of the Police Unity Tour is to raise awareness of Law Enforcement Officers who have died in the line of duty. The secondary purpose is to raise funds for the National Law Enforcement Officers Memorial and Museum in Washington, DC.
In May 1997, the Police Unity Tour® was organized, by Officer Patrick P. Montuore of the Florham Park (NJ) Police Department, in an effort to bring about public awareness of law enforcement officers that have died in the line of duty and to honor their sacrifices. The tour started with 18 riders on a bicycle ride from Florham Park to the National Law Enforcement Officers Memorial (NLEOM) in Washington, D.C. which raised $18,000.
All participants (both riders & support) must raise a minimum of $2000 for the Police Unity Tour.
For tickets call:
Joe (732) 318-9262, Jess (732) 423-4220 or
Carlos (732) 803-0015, Marcos (732) 832-1325
Enjoy the beautiful Bay view!