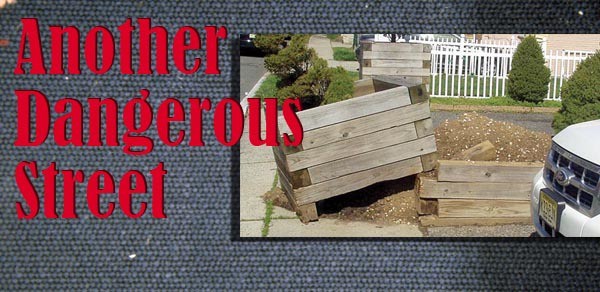 PERTH AMBOY — A resident of Bruck Avenue who is also a father of three small children appear before the Council at the 4/10/13 meeting. He was concerned about the constant problems of cars speeding on his street and was looking at a possible solution. He asked the Council if perhaps the Zoning Board can put speed bumps on the street.
He proceeded to say that cars have flipped over on his property and the neighbors and parked cars have also been struck. Many times the drivers of these speeding cars have fled because they have no insurance or licenses.
Councilman Bill Petrick said, that he is in favor of some kind of speed bumps although there would be a cost involved.
Business Administrator Greg Fehrenbach asked the resident to see him after the meeting to get additional information. The resident also handed the Council pictures he had taken of vehicles that had caused damage to his property.
One of the Amboy Guardian photographers visited the resident's home at 298 Bruck Ave. on Sunday, April 14 and took the following pictures showing some of the damage caused by a speeding vehicle.
The resident said he would be forwarding more photos showing actual overturned vehicles on his property by drivers who lost control of their vehicles by exceeding the speed limit.