By Eddie Gonzalez—
PERTH AMBOY — What a week of fishing! Stripers are in and the fishing action has definitely spiked.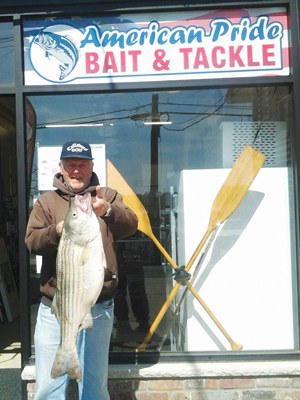 A mixed bag of shorts and keepers were reported from the local fisherman on the piers and sand. Many keepers this week in the 30'' to 36'' range have been caught on clams which have been the bait of choice followed by sandworms and bunker.
Bunker have been starting to show up in the Bays and Kill in small schools as the water temps rise they'll be larger schools passing through. Fisherman have been reporting a lot of action on the outgoing tide. With all the action people have forgotten one of the best tasting fish in these waters "the winter flounder." Party boats for years have anchored by the train bridge (sorry about the spot burn) and have not really pursued them as the limit became 2 fish at 12". It's a good spot either off the sand or on boat
I recommend snell, a circle hook for bass tie a drop loop about 20'' and rig it with a flounder hook bait up and let it go. Reports of blue fish following the bunker have been spotted down in South Jersey making their way up this way normally mid May is when they start getting heavy it depends on water temps or as late as the 2nd week in June.
This week I had a guest walk in and tell me a story he said "I don't mind telling people where I fish. I enjoy the fact that someone is going to have a great chance to catch fish and the joy it will bring them. It is a great feeling. The next week comes around and I go to my favorite spot and what do I see? I was infuriated, not at the fact that there were many people there, but at the amount of trash scattered everywhere. The amount of garbage was so disgusting, I put my rods back in my car and…….Here is where you try to guess the story ended…….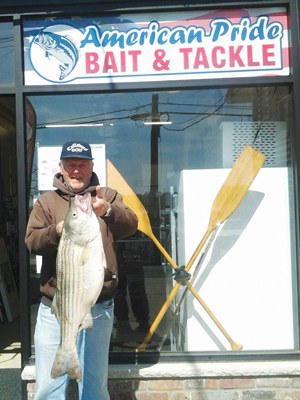 A: then drove off
B: he got a big garbage bag and cleaned up
What would you have done?
Well, the story ends with B and the inspiring part is that those who were there saw this and helped with the clean up. The moral of the story? None of us would like to find our favorite spot full of trash. We all must take responsibility for ourselves and clean up. We need to do our part even if it's not your trash. It's your sport.
___________________
Tasty fish By Eddy
Striped bass on the grill Eddy style
1. Combine olive oil, lime juice, lime zest, cilantro and garlic in a large shallow bowl.
2. Add salt and pepper to taste
3. With the tip of a fillet knife, make three diagonal slits through the skin of each filet.
4. Place the fish in the marinade and turn to coat the fish.
5. Cover and refrigerate at least one hour.
6. Light a charcoal grill or turn a gas grill to medium high if using charcoal use indirect heat it's better.
7. Place the bass on the grill and cook for about 8 minutes on each side, or until the fish flakes easy pour a little melted butter a squirt of lemon juice and serve. Very nice with a side of bacon rapped scallops