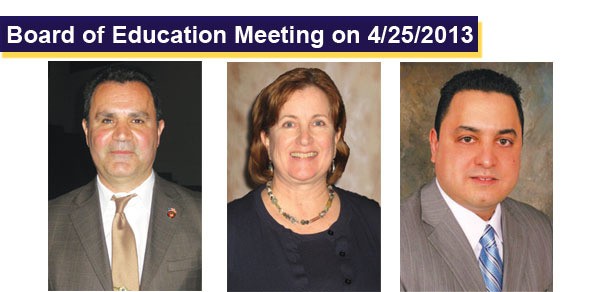 PERTH AMBOY —  At the Perth Amboy Board of Education Meeting on 4/25/13, Board President Mark Carvajal made the following statement: "There's a cloud hanging over this Board." He was referring to ethics charges against Board Members by Superintendent Janine Walker-Caffrey.
Carvajal continued, "We have to work together for the community."
At the beginning of the meeting, presentations were made to the Boys Varsity Wrestling Team and the Girls Varsity Basketball Team.
Slide show presentations were also shown by Principal Roland Jenkins of Wilentz School and Anita Dowd Vice-Principal of the Visual & Performing Arts & Media Academy. The presentation showed the progress of their students and programs to help in their development.
It was not that long into the meeting that Superintendant Janine Walker-Caffrey started to read a statement listing ethics violation charges against Board Member Israel Varela. She had two cases against Varela and a third charge against Varela made by another individual who is also employed in the Perth Amboy School System.
One of the complaints that she read against Varela is that she accused him of owning property in Perth Amboy but not being a resident of Perth Amboy. The second charge was that Caffrey accused Varela of going into schools without signing in which is required. Caffrey also brought up what she had insinuated over a year ago where she said that Varela tried to get his friends hired in the school system.
It was when Varela questioned at a Board Meeting why a new hiree was given a job over a long term employee who had applied for that same position.
Varela countered with a statement that he has been in Perth Amboy a very long time and he knows a lot of residents and they know him. Varela admitted that he has a son who is attending school in Hunterdon County and that son resides with his grandmother. "I sent my son to a school that I thought would give him the best education. As far as my going into a school without signing in, I have been going to the Richardson School where my wife works since I met her 25 years ago. I work a block away from that school and I drop off lunch to her and sometimes teachers will stop me in the hallway to talk. Sometimes I may drop off desserts to the kids and teachers. I will no longer do this. I will continue to do what I believe is right and will continue to speak up," Varela said.
Varela also mentioned Joel Rose, who is one of the founders of the Teach To One Program. Caffrey worked in the same school in New York where Rose also was employed.
Caffrey's response was, "Just because we worked in the same school does not mean I knew personally. I guess your information from Jersey Jazzaman."
Board Member Maria Garcia said, "How can you determine if someone is qualified for a position just based on their longevity?" (Referring to Varela's statement about longevity being a factor in placing someone in a position) She also questioned Varela why he sent his son to a public school in Hunterdon County. After Garcia made her statement, the Board Attorney said, "Due to litigation on the ethics charges, this discussion should stop."
Another hot topic at the BOE meeting had to do with the by-laws pertaining to public participation in Board Meetings. Those in attendance and some Board Members showed their displeasure with the new rules.
Rule #1 was a sticking point which stated: All persons wishing to participate in a public Board Meeting should register their intent with the Board Secretary in advance of the Meeting.
Resident Mel Knight questioned the sign-in sheet and the need to know what we want to talk about. She also asked about the Chief Literacy Officer's responsibilities. She said that on the agenda it says that "This Officer will be teaching the community also, even though the students are not doing that well." Knight also wanted to know what happened to the person that used to sit with the Board Members.
AFT President Donna Chiera said, "How can you put down what you want to talk about. Many times we will respond to what is said during the meetings."
Board Vice President Kenneth Puccio said, "Why put a restriction on the public? This is an open government. Why sign in? I don't think we need a sign in policy."
Fellow Board Member William Ortiz agreed with Puccio, "We also should not put a time limit on the speakers."
Board Member Anton Massopust said, "There is such a thing as freedom of speech." After he made this statement the audience applauded.
A handicapped student came to the podium to speak about what she felt was discrimination against her. She is a student at Perth Amboy High School and she relayed incidents where she was denied using the staff handicapped bathroom. She also relayed an incident when she was sick for a couple of days and was still required to take a test. She proudly stated, "I passed the test." She quoted part of a 1975 law that stated: handicapped students should be in the same classroom as regular students. She continued, "My family is constantly being called to come to school because of my condition. You have not been able to accommodate me. If I keep my grades up, I will be getting a $53,000 scholarship which would allow me to only have to pay $4000 for my education. I don't deserve to be put in the library instead of with my peers."
At that point Board Member Anton Massopust wanted to ask the student some questions. Board Secretary Derek Jess and Board President Mark Carvajal said that he could not at this point.
Massopust said, "Then why have people ask questions?"
Board Member Maria Garcia said, "Perhaps we need to revise and update policies (There may be need to form a committee for this. We should be flexible.)"
An agenda item that upset any teachers and AFT President Donna Chiera had to do with revised job descriptions. This item was tabled by the Board Members to the next Board Meeting.
The agenda for this meeting was not posted in a timely manner according to some of the teachers. There was not enough time to review the revised job descriptions. The jobs affected were as follows: Bilingual Teachers in the Elementary, Middle and High Schools as well as the ESL teachers in the same categories, Special Education Teachers in the Pre-K, Elementary, Middle and High Schools.