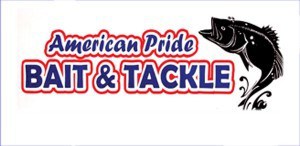 By Eddy Gonzalez—
PERTH AMBOY — Despite the windy conditions this week. Fishing remained strong. Beachside has been reporting the most action from High St. to 2nd St. followed by the bridges, the old docks on the Kill, & Carteret pier, many catches have been reported. Boaters are also doing well, Kevin Barasky stopped in and said large schools of bass are at the Shrewsbury Rocks.
The stripers are hungry and are being caught on fresh or salted clams, fresh or frozen bunker, sand and blood worms. Fishermen are using high lows, fish finders, & reef rigs weights 4 to 6 oz depending on location. I use whichever weight keeps a firm hold to the bottom. It is to ensure that when fishing along side of other fisherman, my line will not cross theirs.
Many new fisherman fail to use the proper weight or gear when fishing in tight quarters using this simple tip will save a lot of time and frustration.
On the subject of gear, a few things come to mind worth mentioning: "COURTESY" many of the things I'm about to say should go without saying. It should just be a standard. Every year many new fisherman and woman start fishing. They might not know the proper fishing etiquette:
For example if you are fishing on a pier it is courteous to use only two poles at a time. There is no need to use your pole collection all at once.
Keep it clean and respect those around you.
The real reason I've delved on this subject is because of an unwritten rule about cows (female stripers.) Almost all cows at this time of the year have a big fat belly of eggs. One can tell at a glance, the belly is huge. It is bigger than normal, a pinkish color, and very soft. This is a moral suggestion: take a picture of this beautiful Mama, throw her back so she may her lay her eggs. Helping to ensure our children will be given the opportunity to catch their own striper in the future.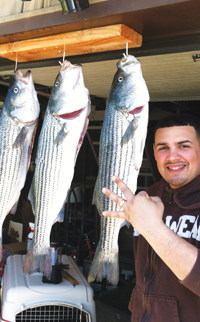 I will stress that this is just my opinion of what I feel is right. I would like to think others agree with me.
It isn't just a sport, it's a lifestyle. It is our lifestyle. The actions of ONE, reflects on all of us. It is our duty as a whole to teach and be willing to be taught. If you see a fellow fisherman can use a hand, give him one. If you can teach him or her something teach it. Take your children or a neighbor's kid fishing. The memories will last a lifetime.
I won't sit here a pretend I know everything about fishing, because that wouldn't be true. What I do know, I'd like to share with you the readers of my column.
I want to thank you all for the nice words about it. I'm glad my work is appreciated also if there is anything you would like to see or know:
Please e-mail me at AMERICANPRIDEBT@GMAIL.COM
Also visit our website at AMERICANPRIDEBT.COM
SHOP NEWS
The shop was just issued its' New store tel. number this week 732-826-3705. Our main focus being guest service, we will be offering line spooling.
We will also be providing delivery service for those coming to us via the water on the weekends. Please call shop for the specific details.
Friday, is our late night, we open from 6:00am until 10:00pm
We are fully stocked with bait and ready to go.
Were offering ice in 7lb and 20lb bags and Beverages
Show us your catch! Bring in your fish and we'll do the rest: Size it, weigh it, and take a picture. We post it in the paper and on our website.
Back by popular demand my YouTube videos found on under " Perth Amboy fishing"
There is much more to come. Stay tuned to the Guardian for updates.
This week's high tides:
5/8 – 5/14
Wed 5/8 7:30 am 7:51 pm
Thurs 5/9 8:14 am 8:30 pm
Fri 5/10 8:56 am 9:07 pm
Sat 5/11 9:38 am 9:44 pm
Sun 5/12 10:21 am 10:22 pm
Mon 5/13 11:05 am 11:00 pm
Tues 5/14 11:51 am 11:41 pm