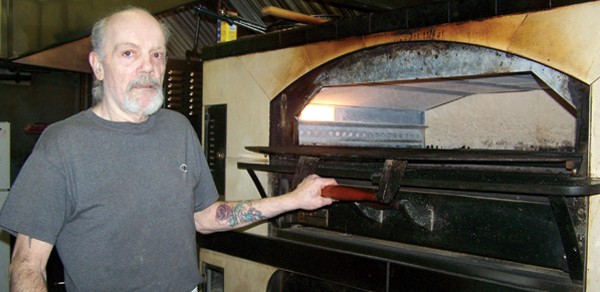 A Recipe for Success: Love and Family for Four Generations and Counting
By Katherine Massopust and Carolyn Maxwell—
SOUTH AMBOY/PERTH AMBOY — Sciortino's Harbor Lights is located at 132 South Broadway, South Amboy. Lou Seminski Sr. owner of South Amboy's Sciortino's and his daughter, Sheri Seminski shared their memories with the Amboy Guardian.
Amboy Guardian: How long has Sciortino's been in business?
Lou Seminski Sr.: Since 1934 in Perth Amboy. We are happy to be in business 80+ years.
Amboy Guardian: Sciortino's is a family run business. For how many generations has it been in business? Who started Sciortino's?
Lou: My grandparents: Frances and Paulo Sciortino lived in New Brunswick and had a small business. The family was growing and were planning to move to Brooklyn. Frances' family, the Coffaros had a business in Perth Amboy on New Brunswick Avenue. They had a pizzeria, butcher shop and a bakery that made Italian bread. They opted to stay in Perth Amboy. Uncle Cosmo was visiting from Italy and helped my grandparents buy the property outright.
Amboy Guardian: When did your grandparents immigrate to America?
Lou: They came in January 1923 and went to New Brunswick. They came from Bagheria, Sicily from the south side of Palermo.
Amboy Guardian: Where the name Seminski come in?
Lou: Mary Sciortino married William Seminski.
Amboy Guardian: When did you take over the business?
Lou: Mary, Isabelle and Helen and Lucy were the four sisters who originally ran the pizzeria. Because of the different businesses run by the family it was a 24 hour operation. (Someone from the family was always there.) Around 1988-89 Isabelle and Helen were getting older and asked if anyone would be interested in taking over the business. Lou Sr. partnered with Joe Misiewicz to do so. When the City took over the property through eminent domain in the early 2000's Joe and I dissolved the partnership. My son Lou Jr. and daughters Sheri and Sandra got involved with the South Amboy business. We are all involved in both locations.
Sheri: The younger generation (Sheri, Louis Jr., Sandra, Sarah & our cousins) really helped with the pizzeria in Perth Amboy since childhood growing up as the Aunts were getting older. Louis, Sr. and Joe Misiewicz partnered up because all of us kids were too young to take over. Now, we are old enough to carry on the family legacy and happily still work both locations in Perth Amboy and South Amboy.
Amboy Guardian: What is the origin of pizza in the United States?
Sheri: It was originally known as a tomato pie. It was dough with a lot of sauce and cheese sprinkled over it. Pizza became more prevalent in the United States after World War II because of the soldiers that were stationed in Italy and were used to the tomato pies there. After WWII they used to deliver tomato pies and sandwiches to factories. Then they started putting more cheese on it and it became pizza. Pizza parlors started to open. Sciortino's is either the 2nd or 3rd in the State of New Jersey and the 12th documented in the country as a pizza parlor.
Amboy Guardian: What makes Sciortino's sauce so tasty?
Sheri: I tell everyone the secret ingredient is love.
Lou: Grandmother Sciortino's recipe (sweet sauce). Sicilian sauce is the sweetest sauce. Originally they grew their own tomatoes and jarred and bottled them. The tomatoes were picked at the ripest time of the season. We use California tomatoes: Saporitos and Full Red.
Amboy Guardian: Why the brick oven?
Lou: It bakes a little better. You see the difference in the cheese when it's baked and its evenly cooked. The old oven was fueled by Anthracite coal. The new brick ovens are powered by gas.
Amboy Guardian: What's the most popular item on your menu?
Lou: Pizza with sausage. We make our own homemade sausage. The most popular dish is spaghetti with meatballs. We use the same ingredients as Grandma Frances made.
Amboy Guardian: What is your favorite item on the menu?
Sheri: I love the plain pizza. I have a slice of pizza every day. There is nothing like a family sharing a pie together. It makes for a family atmosphere. My favorite dish is the eggplant and garlic. I like the taste.
Amboy Guardian: Why is lasagna not on the menu?
Lou: We have stuffed shells and manicotti. It has cheese and sauce. We'll put lasagna on the menu once a week. Some people prefer the meatless, some prefer with meat. For the Tour of Italy Event we do have lasagna.
Amboy Guardian: Does Sciortino's do any catering for parties?
Lou: We cater, but it's not full service. The customer will pick up the food. We don't have full time staff that stays at the event.
Amboy Guardian: What makes the atmosphere in Sciortino's so pleasant?
Sheri: We are blessed to have a family business because we love it. When the business closed in Perth Amboy, we looked around Middlesex County. By word of mouth we heard about the location in South Amboy. When we saw the property in South Amboy we took it. It didn't even go on the market. It's 9 years ago this May that we opened in South Amboy. When we opened up in South Amboy the old business here had Harbor Lights in their name. We kept Harbor Lights in the name when we opened Sciortino's. We find the people in South Amboy are friendly and family orientated.
Amboy Guardian: Does Sciortino's sponsor any charity events?
Sheri: We're always a part of the community. We've done events for the YMCA and for children with disabilities and with cancer. One of our former workers was hit by taxi in New York. He is still recovering. We've had a fundraiser for him. He's in our prayers.
Amboy Guardian: What is the best part of owning your own restaurant?
Sheri: Why are we doing what we do? It's something that's a part of you. It's very rare nowadays. It's seeing your family being able to be with your family and having them close by. I am so fortunate to know all my relatives. The only one I didn't know was Aunt Katie who passed away before I was born.
Amboy Guardian: Why did Sciortino's come back to Perth Amboy?
Lou: Lou Jr. proposed moving back to Perth Amboy. Most of the customer base was coming from Perth Amboy. We don't deliver from South Amboy. It's not practical. Now, we have a delivery base in Perth Amboy. There is a possibility we may open up a second location in Perth Amboy.
Amboy Guardian: What advice do you give to young people aspiring to have their own restaurant?
Lou: To work in one first. Let me tell a funny, but true story. My son's father-in-law is a retired Sheriff from Camden County. He was thinking about opening up his own restaurant. He came here and helped out for five weeks. From the time we opened up until the time we closed. He didn't realize how hard it was. He said, "God Bless You, but no thanks."
Most of our wait staff, servers and bartenders are putting themselves through college, and then they move on. We do have some long term employees. One of our staff, Bobby Gardella has been with us since the age of 17. Chris Straille who makes the pies has been here for about 15 years.
Some of our former delivery people from our original location in Perth Amboy included: Mike Kohut (former Perth Amboy Deputy Police Chief), Ken Puccio (who is now a Perth Amboy Detective and Board of Education VP) and Elaine Kiczula (Jasko) (who is now the Perth Amboy City Clerk). There is a lot of second generation employees. Some of the people who worked for us have their children work here.
Amboy Guardian: Do any of you have other career interests?
Lou: Lou Jr. is a lawyer at the Wilentz Law firm.
Sheri: I teach in the Department of Human Ecology, Rutgers (Cook Campus).
Comments from the interview: Not only were recipes past down, but so was the recipe for love. All throughout the interview Sheri was beaming from ear to ear whenever she talked about all of her aunts and uncles. I remarked to her that some families have a reunion perhaps once a year, but her family had a reunion every day. Looking around the restaurant after we finished what I now call a conversation, I noticed that all the family was there. The walls have pictures of all of the generations of the Sciortino's and Seminski's. I am positive that the relatives up in heaven heard every word that Lou and Sheri said sitting around a huge table enjoying a plain pizza pie.
This spotlight was also a dedication to those who started this tradition. Raise a glass to Uncles: Pete, Tony, Joe, Micheangelo, and Fred, Aunts: Dora, Rose, Isabelle, Lucy, Helen, Katie and Mary.