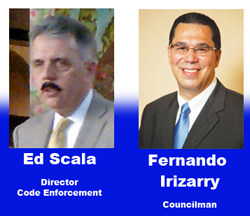 PERTH AMBOY — At the 4/22/13 Caucus Meeting Director of Code Enforcement Ed Scala said, "There are 300 line items pertaining to enforcement and action on the City Budget for Code Enforcement. These items pertain to Building, Zoning, Fire Prevention and Housing. We also work with the City Engineer, Ernest Feist. We are currently looking for one vacant position for an Inspector. There are five Inspectors, some are full time; some are part time. The area that we must cover includes 10,000 properties in a town of 50,000 residents. When we issue notices in the field none are left on the property or in mail slots. If a citizen complains about a property, they usually call anonymously. Sometimes they may call someone at the Mayor's Office or even Council Members. Because of the economy and of the City being in an urban area, illegal housing is very prevalent. Sometimes we may get complaints from the Fire and Police Departments. We are trying our best to take care of all of this."
Scala continued, "When there is a citywide issue, our entire staff will go out starting around 6 a.m. These could be hazardous and non-hazardous complaints. We also conduct yearly and quarterly inspections depending on the number of occupants. On the issue of property maintenance and housing: there is a review and an inspection and if there is a complaint that is valid, we may issue a summons to the owner."
Scala continued, "If there is a violation, they are given a notice, then a summons is issued. There are $100 to $150 fines for garbage violations, overcrowding and more serious offenses."
Councilman Fernando Irizarry was concerned about a memorial at the intersection of Penn and Washington Street that no one is paying attention to. He also said, "At 284 Washington St. there was way to much litter."
Irizarry had complained about the same property at previous Council Meetings."
Scala told Irizarry that he had not personally gone to that site to see the litter in question.
Ed Scala also talked about building permits. "Our Department will come right away to do inspections. If the property fails an inspection, we let them know what had to be corrected. Once the corrections are done, it is up to the people who owned the property to call our office and set up an appointment to do a re-inspection. We schedule the re-inspection for 2 or 3 business days after the call is made. There are different levels of Inspectors, each level having different qualifications."
Councilwoman Lisa Nanton asked, "What is a building permit issued for?"
Scala answered that it would be issued for only certain kinds of work. "For instance, renovations. We have to make sure that any renovations being made fit the requirements for that zoned area."
Scala continued, "Our Plumbers check hot water temperature to make sure they meet our standards. We only do testing of hot water. They witness the Contractor doing the testing on the sewer, waste lines, gas lines, etc. The State has registered contractors. The City only has a registration procedure but I meet with all contractors (that have or may be dealing with the City)."
Business Administrator Greg Fehrenbach said, "There is so many complaints, it is hard to keep track of them. There was an updated list given to Inspectors in early April with the status of violations. We will try to update that list every 2 to 3 weeks."
Councilman Ken Gonzalez said that he met with a local business owner on Smith Street who had received a summons from Code Enforcement. "This summons was about a blinking sign and a rented out counter space at their establishment. This business owner said that other stores had similar violations and thought that she had been targeted and there was a complaint specifically against her. She said that enforcement officers should take action against other violators, also."
Scala said, "She never had approval from us to sublet and other businesses may have gotten a summons, too."
Gonzalez also wanted to know the minimum fines for housing violations.
Scala replied, "I don't know. You will have to ask the courts."
City Attorney Mark Blunda said, "The Council can set fines."