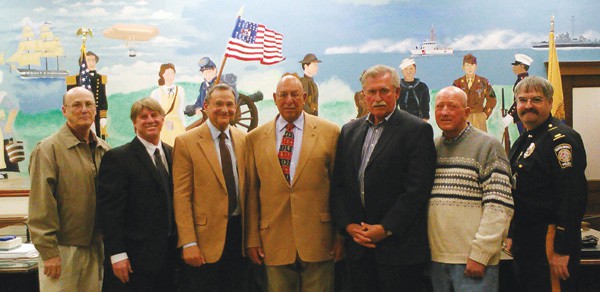 I know that the title is puzzling. In Perth Amboy, we have certain residents who attend most or all of the Council and Board of Education Meetings. The most famous resident would be Alan Silber. In the past, it he would be joined by the late Richard Piatkowski. Other residents who are frequent attendees include Stanley Sierakowski, Reinaldo Aviles and in the past Orlando Perez and Peter Book. No matter what your opinion about these individuals, whenever they come up to speak, they rarely come up empty handed.
Even Business Administrator Greg Fehrenbach mentioned that whatever these individuals may speak about, he always takes what they say seriously.
At the last South Amboy City Council Business Meeting on May 1, 2013 I was told by my reporter that it was an excellent meeting.
Superstorm Sandy and its aftermath brought out a large crowd. Two individuals talked in great length about the tough times they were still experiencing. They took the Council to task.
I heard that one resident, Andrew Horezga spoke for about one hour. I first met Andrew when he came to a Perth Amboy Council Meeting in late April. Andrew said that he was impressed in the way the City came together to start rebuilding the Waterfront.
The Perth Amboy Council told Andrew Horezga that he may want to stick around because there was going to be a presentation by the Waterfront Recovery and Redevelopment Advisory Committee.
I had a conversation with someone from Perth Amboy who is familiar with Horezga and he said that he was "Very impressed by Andrew."
The South Amboy Meeting was also televised by a well known TV station that is viewed throughout New Jersey.
This may be a stepping stone for some of the South Amboy residents to test the waters in the political arena. Perhaps some of the residents in South Amboy may consider running in the next election. You have to start somewhere. You can even start a Citizen's Action Group.
There are many websites that are available to you. One of them would be: The Citizen's Campaign Group which teaches regular citizens how to go about enacting or changing City Ordinances.
Unfortunately it took a disaster such as Hurricane Sandy to bring out such a large attendance at a Council Meeting.
I heard that some of the residents even before this meeting praised certain members of the Council and the Police, Fire department, EMT's and local Churches for their diligence during and after the storm.
Keep your eye on the individuals who spoke out during this meeting. They may be your next Council Members and/or Mayor.
To those South Amboy residents past and present who spoke out, I say, "Don't ever be afraid to speak up." The individuals that I spoke about in Perth Amboy never do.
Some of the residents from South Amboy who always questioned the Council were: Vince Mackiel, Mary Bouchard, Eileen Ryan, Nancy McLaughlin and Saverio Sagliocco, Lori Papernick, Mary O'Connor, Tom Kross and Tanya Anderson. These are just a few that come into mind.
Speaking of Eileen Ryan, I remember at one South Amboy Council Meeting when she stepped forward to hand a report to the Business Administrator. All was said was one of the Councilmen shout out to her, "Step back!" It took her and those in attendance by surprise as if Eileen is going to attack them. She retreated back to her seat. It was a very comical moment. Trust me, Eileen was not about to inflict any bodily harm. She is one of the most likable, charming and very intelligent persons you will ever meet.
Just like the Perth Amboy residents I spoke about earlier, the South Amboy residents I just mentioned rarely came up to the podium empty handed. You should always listen to every word that these residents say. You may need them more than they need you.
C.M.