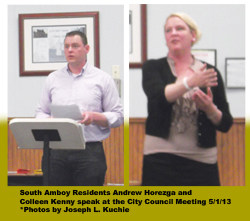 By Joseph L. Kuchie—
SOUTH AMBOY  —  On January 2, 2013, U.S. Senator Chris Smith reported that 346,000 homes in New Jersey were damaged by Hurricane Sandy, with 22,000 of them being declared uninhabitable.
Residents have been displaced, families have been separated, and lives have been lost over the course of the past six months, and many cities and towns in New Jersey continue the struggle of getting life back to normal.
A number of affected South Amboy residents turned out to last week's business meeting to express their frustration with the city. Andrew Horezga, who has been the most vocal resident since the storm hit last fall, spoke from the heart for nearly an hour about what the city looked like after Sandy hit and the lack of effort made by city officials.
"The morning after the storm brought shock and dismay as we awoke to an apocalyptic environment which resembled a movie set," Horezga began. "Our streets were covered in storm debris, homes had foundations washed away, personal possessions were scattered around our neighborhood like a bomb blast, and everything was covered in raw sewage."
Horezga noted the appearances of Mayor Henry and Councilwoman Noble during the tough times, but explained the anxiety of local residents who still haven't been helped has gone up and they continue to struggle even today. He acknowledged that South Amboy was blessed compared to other cities but more needs to be done to help those suffering.
"South Amboy was blessed in that we lost no life or had no serious injuries, but we have missed so many opportunities to shine as a city in the recovery of this disaster," Horezga said. "I have met with mayors, business administrators, and councilmen from our neighboring towns and I was amazed to see what was being done and saddened to see South Amboy was missing the mark on so many levels."
Neighboring towns like Perth Amboy, Sayreville, and Woodbridge have all held meetings to hear from storm victims, created programs to help local families recover from losing their homes, and developed a task force made up of residents to help rebuild.
Horezga was concerned about the lack of communication between the city of South Amboy and it's residents. He discussed one of the only updates from city officials that came on April 10th, which in his mind was nothing more than a blog post taken from a letter from the Mayor.
"That blog post was nothing more than a 255 word summary rehash of the Mayor's letter to the city with an attached sentence at the end to flood victims," Horezga explained. "It's not the size of the letter that is pathetic, it's the reality of the situation."
"In our eyes, you have done very little. It's insulting to try and say otherwise, and I hope you can see how delusional you are at the moment," he continued. "It is embarrassing to show up in other towns and answer the question 'why are you here?' like the kids of delinquent parents who parlay their responsibilities on someone else or dump them in latchkey."
Horezga told stories of local residents helping their neighbors after the storm by providing food, supplies, and shelter while the city government did nothing. He spoke about a local Krausers employee who offered a customer a lease-free place to live until he was back on his feet.
"It is disgustingly beautiful how the man from Krausers who sells paper towels and coffeecakes has shown a better capacity for response than our officials, whose job it is."
Toward the end of his remarks, Horezga proposed a three-step process for the city to use to help flood victims get through this tough time. It included establishing a hurricane recovery team made of residents, refunding any permit fees charged to residents during the rebuilding phase, and invite people from mental healthy facilities to help prevent suicide amongst those who lost their homes.
Mayor Henry directly addressed Horezga after he was done speaking and showed promise that the city would hear his demands and work with him in developing a recovery team.
"Andrew you were very well spoken. I'm not going to say I agree with everything because some it was obviously opinion, but I will gladly sit down with you and talk about this committee that you want to set up, " Henry said. "In fact, if you are available tomorrow I will set up a meeting."
Colleen Kenny spoke before the meeting adjourned about her hardships the past six months and how she is now taking a leave of absence from work to care for her mother and children. Kenny lost her home during the storm and explained how the pride for her city has decreased with the lack of effort from its officials.
"I have always been proud to say I'm from South Amboy, but in the past few months I haven't been proud of this town," Kenny said. "All of you are going to your homes after this meeting, we're not going home."