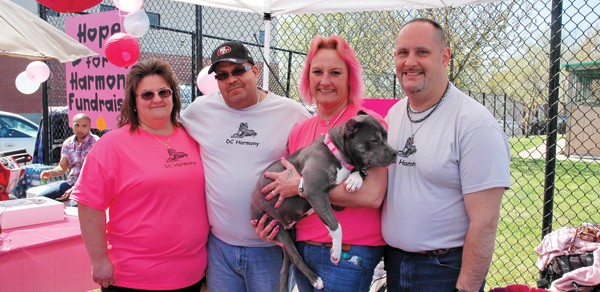 By Katherine Massopust—
PERTH AMBOY — D.C. Harmony is a 10 to 12 month old female Staffordshire Terrier that was found by police on March 16, 2013. She was abandoned in an apartment complex on Harned Street, Perth Amboy. Harmony doesn't have the use of her back legs. It is believed by veterinarians that Harmony's suffered from trauma to her backside.
Harmony was taken in by Dana Stefanick. "When Harmony was found, the Animal Control Officer didn't want to put Harmony in the shelter, causing more stress on the dog after suffering such trauma. The dog was kept at the Perth Amboy Police Station. The Animal Control Officer wanted a rescue group or for someone to take the dog in. The Officer put Harmony's picture on Facebook. My sister, Kimberly saw Harmony on Facebook so I went that night and picked up the dog at the police station."
Staffordshire Terriers resemble pit bulls and are often a target for abuse. "People think that any dog that looks like a pit bull is aggressive. People have misconceptions about dogs," Stefanick states.
A wheelchair for Harmony was donated by Kim Kelly Seber. (A dog wheelchair can cost anywhere from $250 to $600 depending on the size and needs of the dog.)
The dog's medical bills and other needs are enormous. Harmony needs an MRI which costs around $2000 and possibly also a CT scan to determine the cause of her paralysis. "Harmony's blood work is perfect. She has no infections. Everything came back perfect. The neurologist feels that Harmony could walk again at some level. She has complete feeling in her right hind leg and some feeling in her left hind leg. The X-rays revealed nothing broken. A MRI will tell more. It will enable them to see masses and what exactly is wrong with Harmony. Then she can have the necessary surgery required," Stefanick said. The surgery could cost up to $5000.
Stefanick started to have fundraisers to help out Harmony by selling T-shirts and bracelets. There is a Hope for Harmony Facebook page and a Hope for Harmony Fundraiser Page. The latest fundraiser was at the Perth Amboy Animal Shelter on Saturday, April 27, 2013 during the Rabies Vaccination Clinic where Stefanick had a bake sale of both dog and people treats to raise money for Harmony's bills.
For more info on Harmony, email HopeforHarmony@comcast.net If you wish to donate money to help Harmony, mail checks made out to Dana Stefanick to Its A Dog's Life, 150 Cottrell Rd., Old Bridge, NJ 07747. Or mail checks to the Perth Amboy Animal Shelter, 597 Fayette St., Perth Amboy, NJ 08861. Mark the check "For Harmony." Or go to www.fundrazr.com. So far over $3000 has been raised for Harmony.
Stefanick also welcomes donations of non-slip rugs (necessary for Harmony not to fall down) and drag bags (for Harmony when she is not in her wheelchair) "A 2nd Pack 'N Play (playpen for Harmony) would be fantastic," Stafanick states.
No one knows what exactly happened to the dog or whose dog it is. Dana Stefanick states that she will offer a reward to anyone who gives a legitimate tip leading to the arrest and conviction of the person who injured and abandoned Harmony. Anyone who has any information feel free to contact the NJSPCA's anonymous tip line (1-800-582-5979) or call the Perth Amboy Animal Shelter (732-324-3877).