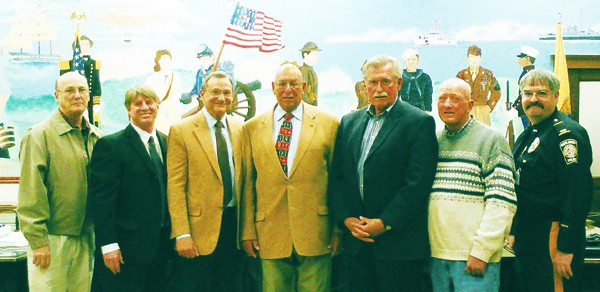 PERTH AMBOY — 3 members of the Waterfront Recovery and Redevelopment Advisory Committee spoke before the City Council Caucus on 4/22/13.
Alan Jacobs gave the main presentation. He wanted to thank all the Committee Members who helped prepare this report. "On January 13, 2013 the Mayor asked us to be on this committee. Our mission was to study and prioritize what to replace and replenish damage done by Superstorm Sandy. We use public input for our recommendations. This included: 1.) Seawalls 2.) Rebuild (Second & High Street) to increase the height possibly using a slide gate or 12 ft. high railing (maintenance free) from Luis Street to Raritan Yacht Club. The seawall was not completed at the Landings which caused flooding. If that seawall had been completed, the flooding would have been prevented because the part of the seawall that was existing was high enough. This caused water to go through the section that was not completed. There is a need for aluminum dock and steel piles which would be a good way to go."
Jacobs continued, "The major marina problem was that the piles were not high enough. The north side ramp of Seabra's Armory needs to be done. In the Bayview Park area we are thinking about terracing of the hills and we may be in need to increase parking. Perhaps making Front Street one-way and installing a bike path. We could put a retaining wall in front of the park. Maybe we can set up a Waterfront improvement Charities. This could be done through fundraisers. The bike path should be connected to other paths such as in Edison and Metuchen. A pedestrian walkway would be separated from the bike path. Personal watercraft should be prohibited. Kayak/Canoe racks can be constructed. Looking down the road, we can have volleyball courts, cool down facilities, restrooms on Second Street and Caledonia Park. We are looking at making beaches swimmable. At one time Perth Amboy's Waterfront was considered as a training center but it went to Annapolis instead. Perhaps we can look at changing zoning to expand commercial usage on Front Street. For housing, this may not be feasible," Jacobs said.
"Limited funds will be available from FEMA. The Waterfront is imperative to the City (Especially Harborside). There may be a need for capital financing (bond issue), but its worth it. There is a lot of history here that is being under utilized," Jacobs said.
Barry Rosengarten said, "We need to protect our shoreline from further storm damage. But we lack funding most of all. We need to protect the park especially to prevent a collapse."
Hatch Mott McDonald Representative Robert Mainberger said, "Corrosion is a problem by the Raritan Yacht Club (the Bulkhead). Soil evaluation will determine height of piles."
Council President Joel Pabon said, "A lot of residents at the Waterfront will be able to walk to all of these activities which is a good thing." (He specifically mentioned the volleyball courts.) The Waterfront and history will bring money into Perth Amboy."