Vote NO on Bail Reform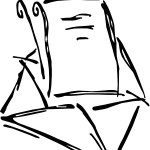 That proposed change to the NJ Constitution should be rejected as an attack on people's rights. It would allow unelected judges to keep people in jail without bail. It violates the Eighth Amendment of the Bill of Rights and Paragraphs 11 and 12 of Article I of the NJ Constitution. Passage of this law would work like "preventive detention" where a person is arrested and kept in jail indefinitely, like in the regime of Louis XIV before the French Revolution.
To avoid the problems in the present system you only have to allow a bail of $1 for various offenses. Who is really behind this proposal? It's certainly not the result of "Initiative and Referendum". It would be better to place "Initiative and Referendum' on the ballot to allow more democracy (as in most other states).
Ronald A. Sobieraj
Ebola Virus on the Rise
Well it looks like the crap hit the fan on this Ebola virus. All those people from the Center Disease Control are worrying big time. Last report was from Dallas, Texas. They want to put a full scale alert. Frontier Airline is looking for those passengers from flight # 1142 because someone had the virus. How far can this Ebola virus go? Some of the top doctors in America are concerned. How many hospitals in major city will be ready in case of an outbreak? What about the first responders? How will they handle this? What about schools and public places where people go? Will the Mayor's and city officials hold a town meeting about this Ebola? But for now DON'T PANIC wait until a health warning is issued by the State.
Orlando Perez
Caledonia/Roessler/Duarte Park
Today I drove by Caledonia Park & noticed two brand new cement footings.   These were recently poured & surrounded by City of Perth Amboy barricades.
As we all know this area is an archaeological site, i.e., the grounds of the Long Ferry Tavern, c.1685.
To understand the important of the LFT, you should know that Benjamin Franklin slept there.   Lord Admiral Howe, Thomas Jefferson & George Washington also used the LFT.
This is one of the very few remaining 17th century archaeological sites from Perth Amboy's earliest days.
In any other historic city, an archaeological excavation would have been performed before any footings were drilled through the site.
To make myself perfectly clear, I am not against any monument on this site—just the opposite— I'm in favor of such.
However, it makes no sense to destroy our 17th century history without properly recording it for future generations.  
So, can anyone please explain to me as to why a professional archaeological excavation has not taken place?  Why hasn't the City Of Perth Amboy hired a professional archaeologist?
John Kerry Dyke