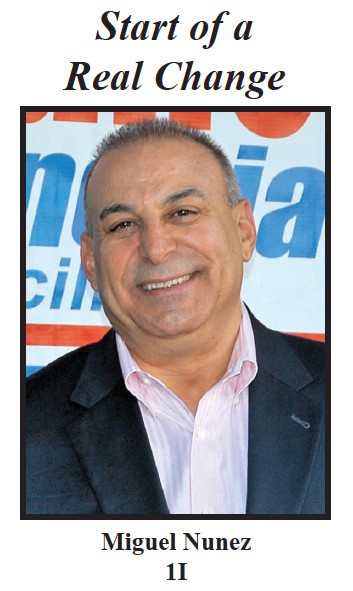 As we all know or should know, Perth Amboy is a very historic town. Do you believe that it will be beneficial for the Mayor to appoint a Council Member to the Historic Preservation Commission?
Yes,  of course this is very  important.
Illegal housing has been an issue for many years in the City in spite of fines being increased to landlords.  What besides increased fines should be imposed on those who knowingly have illegal housing?
Communication is very important between local authorities and residents and many times is good to consider to maintain and reinforce policies  and procedures and the City have many channels to inform. Please keep all citizens up to date.
Perth Amboy is overcrowded due to three reasons: Illegal Housing, Illegal Immigrants and the overabundance of Low Income Housing. None of the three contribute to the tax base as rateables. This has caused an increase in property taxes over the past six years. What would you do to alleviate the tax burden on property owners?.
Should crime be reported more openly to the public?
Yes of course.
Are you in favor of having cameras installed in some of the street lights to help catch illegal activity? If so do you think those shown doing this activity on camera should be shown on PA-TV?
Yes it is urgent.
Are you for more shared services between other municipalities or do you prefer Perth Amboy to be self-sustaining?
It is very important for the city to utilize our own man power, however if an emergency happen I am in agreement to share  services between other municipalities.
Are there any lawsuits against the City which you believe should have gone to trial instead of settling out of court?
Yes I am oppose to settle because  many times people has the tendency to abuse the system.
Which would City Services would you increase and which would you decrease? Are there City Services that could be combined under one department?
The solution is not base on increasing or decreasing it is base in a good and efficient management and supervision.
Do you feel that the Redevelopment Agency, Planning Board and Zoning Board overlap each other's responsibilities?
Well that could be happening.
Do you feel there should be more communication in between departments in the City? Should there be one database that all department heads can access to avoid duplication of services?
Yes, the communication is very important and all departments providing services thru the city and for the city should be in permanent contact and communication for better operation of the whole entitle City.
Do you think the City should be more aware of Community Events? Should there be a Community Calendar available for organizations to post their events?
Yes.
A Rutgers study showed that Perth Amboy is lacking parks and recreational services in certain sections of the town. What do you think would help alleviate the problem?
The waterfront could utilized for water activities, however we have to make sure the water is not contaminated.  Also we must look for open lot, just to mention the open site on the intersection of  Madison Ave and Sadowski Pkwy, among other open sites.
Perth Amboy is notorious for its parking meters. Woodbridge Township and South Amboy both eliminated parking meters. South Amboy has a time limit on their parking spaces. This has caused shoppers who drive to go elsewhere because of fear of being towed or ticketed. Do you think that reaching out to the BID whose businesses are members should be able to validate parking for those customers who shop in their stores?
Yes.
Are you for term limits for all political offices? What should those term limits be?
Yes,  4 Years.
As we all know many of Perth Amboy's streets are still in poor shape. Are you willing to try and put a moratorium on all future building until the road's structure is more stable? If a company does come in and wants to build where the roads are still fragile, should that company contribute to the repairs of the infrastructure of roads in the area to which to build on?
Yes.
Perth Amboy has had major fires in the past couple of years. Do you think that developers who have huge plans for major residential developments (e.g. Harbortown) should provide extra safety for their residents (local firehouse)?
Yes, I  believe developers should provide at their own expenses more local firehouse to reduce the high risk of fire and prevent injuries to the residents.
If you do not win the election, will you continue to attend and participate in public meetings?
Yes, I believe that my participation and involvement is important to help make changes for the benefits of all residents.