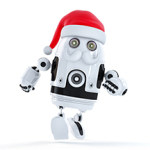 Captain James T. Kirk: Machine over man, Spock? It was impressive. Might even be practical.
Mr. Spock: Practical, Captain? Perhaps. But not desirable. Computers make excellent and efficient servants; but I have no wish to serve under them.
From the Star Trek Episode, "The Ultimate Computer" Airdate March 8,1968.
Even in the late '50's and early '60's the concept of computers ruling man was imbedded our literature, movies, and TV programs.
With the holiday season upon us, many parents are interested in purchasing such items as newer laptops, towers, gaming systems, I-Pads, Pads and drones which are hot items, especially this year. Is this a good thing or a bad thing? Perhaps a little of both.
Just like in marriage, one takes the good with the bad. It's a package deal. The same goes with technology. With primitive robots, such as the mini vacuum cleaners, delivery systems for some offices and drones on the football fields, one must think that the science fiction of the past becoming science fact of today.
Now more than ever, man is becoming more and more dependant on machines. Children are able to experience swimming, skiing  and other sports such as track and baseball through virtual gaming systems. They don't even need to leave their house. Parents don't even need to go shopping anymore in malls or department stores. They shop online. Even groceries can be ordered online and delivered at your door. Exotic foods such as meats and fruits from halfway around the world are at ones fingertips. (For example: one can order lion meat on certain websites.)
There was an interview conducted in England in the late 1970's with the late author, Arthur C. Clarke who gave us science fiction stories such as "2001: A Space Odyssey" Series of books, "Childhood's End," and short stories such as, "Ghost in the Machine," to name a few. Clarke points out computers will both, "Make us more dependent on them (enslave us)," and "Enrich our lives."
Look at the internet, using Skype one can communicate with people all over the world face to face. There are also dependencies from computers. Walking into a bookstore or library, there's nothing like seeing, touching and smelling books. For now, most books are printed on paper in the traditional way and digitized. In times to come, the massive bulkiness of books will be lost and replaced by Kindle-like Pads. One could have the whole Library of Congress on an 8 Terabyte hard drive. Records and CD's are going the way of dinosaurs. Regardless of purists who insist the recording on records are far superior over digital media, the future is all digital. On I-Pads or cell phones, one can download music, books, movies and old TV shows for their own entertainment. VCR's and DVD players are on their way out.
Imagine life today without your cell phone? Or even waiting in line at the checkout register in your local supermarket with old fashioned manual cash registers? Just imagine what would happen if there's a power outage in the Supermarket? Just like when Superstorm Sandy hit us.
So what is the future for mankind on Earth? Remember a novel and a movie titled: "Colossus." Colossus was both a book and a movie which talked about how a supercomputer recognized the existence of another of its kind halfway across the world and decided to merge. Then, "They" decided to rule the world, and to make it, "A better place for them." Some of this technology is beyond man's own understanding (at least right now). More and more the manufacturing industry is moving toward total automation. This means machines repairing machines, which is a very scary idea to think about. Are we the next endangered species by our own doings?  Just remember what Mr. Spock said. Words of wisdom.
P.W. & K.M.