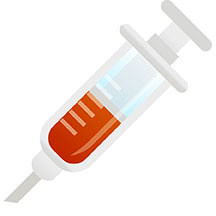 By Dr. Nazar Raoof
We are entering the peak of the influenza ("flu") season.  Beginning in late September and continuing through March, the influenza virus can cause significant health issues. Predictions that the 2014-2015 influenza season could be severe have come true; in fact it is at epidemic levels with double the number of influenza related hospitalizations compared to last year.  In fact, the CDC reports that New Jersey is among a growing number of states with the highest level of influenza-like illness. As of now the current Middlesex County influenza activity level is high.
Influenza is a family of contagious respiratory viruses. Feeling feverish, body aches, headaches, sore throat, and cough are some of the common symptoms. Though these are many of the same symptoms of the common cold, it is the severity of such symptoms and the potential complications that sets influenza apart.  Serious health problems can result from the flu, such as pneumonia, regardless of age or medical problems. The flu can also worsen chronic health conditions such as asthma and statistically the flu kills 30,000-40,000 Americans each year.
So how can we protect ourselves and loved ones from this disease? The best protection against the flu is the annual flu vaccine (either the flu shot or nasal spray). When more people are vaccinated, there is less disease spread through the community.  With this in mind, Raritan Bay Medical Center initiated a mandatory vaccination policy this season for general staff, nurses and physicians.  This policy was instituted to help protect our community, patients, visitors and staff at our Old Bridge and Perth Amboy locations from influenza.
Flu vaccines cause antibodies to develop in the body about two weeks after vaccination. These antibodies provide protection against infection with the viruses that are in the vaccine. The seasonal flu vaccine protects against the influenza viruses that research indicates will be most common during the upcoming season. Even if the actual seasonal strains do differ from those in the vaccine, for the most part, partial protection can occur, and is better than no protection. Everyone six months of age and older should get a flu vaccine every season. There is no preference for the type of flu vaccine people should receive.  You cannot get the flu from the vaccine.
Follow these other important steps to protect yourself and your family;
Avoid close contact with sick people, and if you are sick avoid others to prevent spreading the illness (this includes visiting hospitals)
Cover your nose and mouth with a tissue or into your sleeve when coughing or sneezing and wash your hands after
Frequently wash your hands with soap and water to eliminate germs. Or use alcohol based sanitizers when soap is not available.
Disinfect frequently touched surfaces
Get plenty of sleep and eat nutritious foods
Dr. Nazar Raoof is board certified in Internal Medicine and Infectious Diseases and is Medical Director of Infection Prevention and Epidemiology at Raritan Bay Medical Center. His office, ID Care, is located in Suite 208, 3 Hospital Plaza, at Raritan Bay Medical Center's Old Bridge, NJ, location.  To make an appointment, call 1-800-DOCTORS.