Good-bye to a Good Friend
February 27, 2015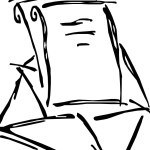 The time has come which I have dreaded now for some time.  I have known Tom Clark for many years and consider him a very special friend.  We made an agreement many years ago that whoever outlived the other would write a letter to the people that he cared about.
Sometimes someone comes into your life and may stay a short while or in our case, for many years.  To know someone is one thing but to have them make a difference in your life is something really special.  Tom and I would commiserate about bowling and teaching.  He was a teacher who really cared for his students and as a psychologist; he was a frequent visitor to VA hospitals, consoling our Veterans.
I would see Tom at the bowling lanes many times.  He would practice while I bowled in league play.  This was a man who never gave up.  His medical condition brought him to the point of just standing at the foul line and throwing the ball (he was quite good at even doing that).
I knew Tom as an articulate writer who brought memories of younger days to people.  He made me feel young just reading about life when he was young.  Tom had a wit about him.  We used to laugh and tell jokes to one another.  He appreciated the simple things in life and made people he met proud to have known him.
Tom was 83 years old but as of last year he went to two cemeteries in December and placed Christmas wreaths on over ten graves.  When I told him that it was too cold to be out, he just said:  "they would do it for me".  I had no reply to that.
Tom will always and forever be in my heart because of his kindness, thoughtfulness and sincerity.  I thank God that God loved him so much that he gave him the ability to affect people the way that he did.
Friends like Tom are few and far between.  Those that knew him know that he will be missed but most importantly, the legacy of caring he left will be felt by many.
God Bless You Tom Clark.  You are a good man.  Thank you for being a part of my life.
Barbara Skokan
Perth Amboy Teachers Run Weekend Lesson 
Planning Marathon 
PERTH AMBOY – How many workers jump at the opportunity to toil long hours over the weekend to refine their craft? Thirty-five Perth Amboy teachers spent Friday through Sunday Feb. 6 to 8 reviewing lessons, collaborating with colleagues to critique and refine classroom practices and sharing successful plans.
Veronica Cueva found quality lesson plans in Spanish on ShareMyLesson.com, a free site where teachers share their lesson plans. Cueva, a Fourth Grade/Dual Language teacher spent the weekend working with colleagues to identify effective Spanish-language plans in subject areas such as science and history.
Although Cueva has six years experience teaching in other districts, she is in her second year in Perth Amboy at Richardson School and her students are those newest to the country. "I can use what I learned this weekend through collaborating with other teachers to create a ladder for my students, many of whom lack basic skills," said Cueva.
The collaboration amounts to high quality professional development for teachers focused on what students need, according to Pat Paradiso, a third-grade teacher at Wilentz School. By developing lesson plans that meet Common Core standards instead of overemphasizing standardized testing skills, "My children will be reading and writing and doing activities that young children should be doing in the classroom," she said.
Paradiso and high school bilingual social studies teacher Larry Bello have been working with teachers throughout the country to develop lesson plans to share and brought the project back home to New Jersey, hosting the weekend event in New Brunswick with the support of the American Federation of Teachers (AFT) and ShareMyLesson.com.
The New Jersey marathon weekend focused on developing lessons for early childhood educators and bilingual and English as a second language (ESL) teachers. "It is very important for our English language learners to have a strong Bilingual/ESL program so they can learn English without falling behind in all the subject areas," said Bello.
The Perth Amboy educators were joined by teachers from Newark and North Bergen who collectively created, reviewed and uploaded more than 500 lessons to www.ShareMyLesson.com
Videos of five Perth Amboy teachers talking about their much effective lesson plans are on the Perth Amboy Federation-American Federation of Teachers web site at www.paf-aft.org.
Nat T. Bender
American Federation of Teachers New Jersey
Special Thank You to JB Vas
I have lived in Perth Amboy for many years now, a proud senior and witness to all of the changes that my dear city has endured. Last year I found myself with a legal issue involving a corporate monster and was at a complete loss. Walking down the streets of Perth Amboy, I stumbled upon the law office  of Mr. Joseph B. Vas and decided to request a consultation  with the hope that he may be able to help me. It was the best decision that I took as his office treated me with the utmost respect and sincerity. Mr. Vas ensured me that he would work hard to get me the result that I deserved, and he was right. Mr. Vas and his staff successfully concluded my case resulting in an outcome far better than expected.
Working with Mr. Vas was a refreshing experience because it felt personal. A resident of Perth Amboy himself, he was quick to place himself in my shoes and dedicate the attention and respect that I deserved. I can't thank him enough for all of his hard work and hope to encourage others to engage his services, particularly now around tax appeal season as he proved to be extraordinarily successful on my tax appeal.
It is the work of people like him that give me hope for the future of my dear city. It is no secret that Perth Amboy has recently been suffering due to the lack of administration. Crimes are occurring in broad daylight, scaring our residents and damaging the reputation of our once prosperous city. Taxes are through the roof and yet nothing has been done, no one has accomplished anything. We hope to attract and retain more young smart dedicated individuals like Mr. Vas to Perth Amboy with the hopes that they can help rejuvenate our city.
Betty P.