Saturday, MARCH 7
SOUTH AMBOY – South Amboy Knights of Columbus Council 426 hold their annual Corned Beef and Cabbage Dinner Saturday March 7 at 308 Fourth St. South Amboy following the St. Patrick's Day Parade. Cost is $10. Sandwiches and take-outs are also available. For more information call 732-721-2025.
St. Patrick's Day Dinner
SAYREVILLE – The Sayreville United Methodist Church will be having their annual St. Patrick's Day Corned Beef Dinner on Saturday, March 7, 2015 from 6 to 8 p.m. at Sayreville United Methodist Church, 406 Main Street, Sayreville, NJ 08872. Cost:  Adult: $10.00, Seniors/Students/Children 5-12:  $8.00, Children under 5: Free dinner of Spaghetti & Meatballs. Dinner includes: Corned Beef or Spaghetti & Meatballs, Boiled Cabbage & Carrots, Boiled Potatoes, Rye Bread or Roll, Beverage and Dessert. For questions or additional tickets, please contact:  Christine Glace (732)613-8768.
Sunday, MARCH 8
Woodbridge Annual St. Patrick's Day Parade
WOODBRIDGE – The Woodbridge American Irish Association will host its 42nd Annual St. Patrick's Day Parade on March 8 for Woodbridge area residents (stepping off at 1:30 pm). It starts at Woodbridge High School & ends at Town Hall on Main St. The theme of this year's parade is education. See story here.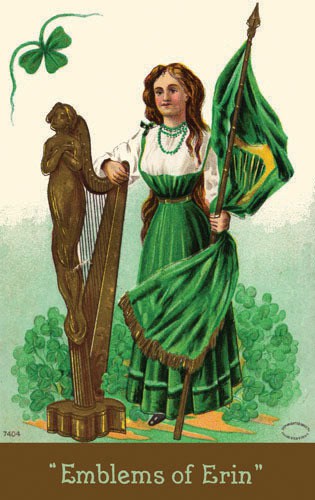 Saint Patrick's Day Harp & Violin Duo Concert
SOUTH AMBOY – Calling all Irish!  Join Merynda Adams and Christopher Collins Lee as they team up for this wonderful concert of music for violin and harp. Mr. Lee is a world-famous violinist who holds degrees from the Juilliard School of Music, a Doctorate from SUNY Stony Brook, and five Honorary Doctorates from foreign institutions.  Adams, an internationally renowned harpist, has performed throughout the United States, France, Belgium, the Netherlands, and Puerto Rico. Ms. Adams has performed with the New Jersey Symphony, New York Grand Opera, New Philharmonic, and many others.  Sunday, March 8, 4:00 p.m., at Saint Mary Church, 256 Augusta St., South Amboy! Free admission ($15 donation suggested).  A special IRISH RECEPTION will follow the concert in honor of Saint Patrick's Day.
Saturday, MARCH 14
St. Patrick's Day Celebration
PERTH AMBOY–On March 14, there will be a St. Patrick's Day Celebration sponsored by St. John Paul II Parish.  It begins with Mass at Noon at St. Mary' Church at 104 Center Street followed by a luncheon at St. Stephen's Church Auditorium at 500 State Street. Traditional Corned Beef & Cabbage or Chicken & Pasta will be served along with cake, coffee, and Irish soda bread. The cost is $20 per person. For tickets, call Millie at 732-826-0282.
Saturday, MARCH 22
South Amboy Saint Patrick's Day Parade
SOUTH AMBOY – The South Amboy St. Patrick's Day Parade has been rescheduled to Saturday, March 22 stepping off at 1:30 p.m. There will be many bagpipe bands, marching bands, civic and non-profit organizations showing their support for the City and the Irish. All are welcome. Absolutely no open containers and or consumptions of alcohol on city streets. Any group wanting to sign-up for the parade must sign–up on the parades website  www.southamboyparade.com All rules, regulations, directions  for the parade are on our web-site. Please make this a family friendly parade and enjoy a "Great Daay for the Irish!" The Grand Marshal will be Mr. Hugh Rone; Deputy Grand Marshal will be Mrs. Phyllis Stratton; Honorary Grand Marshal will be Mr. Peter Barnes Jr.; Special Honored Guests will be Bert Baron, Fr. Dennis Weezorak, and Fr. Stanley Gromadzki.