In Memory of Thomas
Francis Clark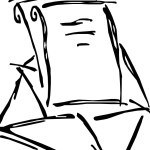 It is great that you published the account of the wonderful work of Thomas Francis Clark in the Guardian and the obituary showing his great deeds in the Academic, Psychological and Veteran's field.
It is therefore proper that the good people of Metuchen and Middlesex County start a fund to perpetuate on February 27th a Memorial, the day of his death, with a declaration of the "Thomas Francis Clark" holiday for all the school children.
Thank you for your courtesies.
Peter Book/a.k.a. Pedro Libro