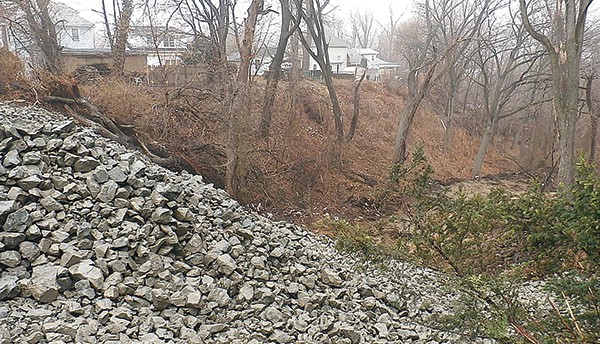 Press Release 3/25/15
SOUTH AMBOY – – Middlesex Water crews worked through the night to stabilize the portion of the road which collapsed from a water main break into an existing ravine at the end of Gordon Street, a dead-end Street in South Amboy on March 24.  Since yesterday, over 100 truckloads of stone have been transported into the area to secure and stabilize the affected area.  The road is expected to be shored up by this afternoon (3/25/15).
All utility services were restored by late yesterday (3/24/15). The three homes that had been evacuated by City's Office of Emergency Management yesterday, have been advised they can return to their premises at 4:00 p.m. today (3/24/15). A temporary above ground water system has been erected to provide water service and fire protection until the water main can be fully repaired. The Company is conducting a forensic investigation in the attempt to determine the actual cause of the water main break. The Company had received no reports of any water running or leak in the area.  The Company has employed leak detection equipment and has not detected any leaks in the area.
Middlesex Water would like to acknowledge City officials including police, fire, OEM and the Mayor and his administration for coordinating a swift response.  We'd also like to thank those residents affected for their cooperation as we worked, in concert with township officials and engineering consultants, to determine a course of action in restoring the roadway. Our primary concern was and continues to be the safety of residents in the area and all parties are working towards that goal.
Contact:
Bernadette Sohler, Vice President of Corporate Affairs
Middlesex Water Company (732) 638-7549