Statement from Board of Ed president follows below.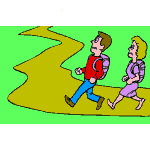 PERTH AMBOY – There were reports that 8th Grade Students at McGinnis school were forced to put on their backpacks and march up and down the stairs during school hours. This was allegedly under the orders of Principal Dr. Myrna Garcia.
McGinnis School Principal Dr. Myrna Garcia has been placed on administrative leave along with the vice-principal and 5 other teachers.
The following are some of the statements regarding the incident which reportedly occurred on 3/27/15. It was stated that the students marched for 6 hours with a lunch break.
One source stated that it was for 3 hours and another stated for 20 minutes. Some individuals stated that it was not the first time this happened. There are reports that this incident was videotaped by school cameras.
Some parents attended the 4/2/15 Board of Education Meeting. They were frustrated because they could not speak until the public portion at the end of the meeting and expressed their discontent.
By the time the public portion came, one parent spoke. "I am the father of 5 kids. The way I raise my child is not to be disciplined in that way. I'm concerned. Who gave her (Dr. Myrna Garcia) the authority?  There is an investigation. I'm grateful about that. My job is to discipline my child. For this incident to happen in this town is awful."
PTO President Donna Stewart stated, "I am saddened. Over 70 teachers tried to transfer out of McGinnis School (over the years while Garcia was principal). It's about our children."
Resident Angel Leon stated, "It's a very sad day. I suggest Board Members sit down and talk to the school. We can't afford anymore lawsuits."
Board President Sam Lebreault read a statement saying that the Board of Education cannot interfere with the investigation and declined to comment on the incident  until more information comes to light.
Corporal Punishment is illegal in New Jersey schools. For more information go to http://statelaws.findlaw.com/
Statement by Board of Education President Samuel Lebreault on Incident at McGinnis School:
PERTH AMBOY – The Perth Amboy School District has been informed about some concerns pertaining to discipline issues at the McGinnis School recently.  The District takes these types of allegations seriously and is conducting an internal investigation to ascertain the facts.  The District expects its staff to adhere to policies and procedures relating to student discipline.  What we know for sure now is that the conduct did not involve any type of physical assault on students.  As a strictly precautionary measure, members of the administration and the teaching staff have been placed on administrative leave to allow an investigation to occur.  Appropriate administrative and teaching staff have been reassigned to the McGinnis School to ensure the continuity of instruction.
The Board cannot make further comments at this time about McGinnis School because there is an ongoing investigation involving staff and students.  We appreciate your understanding that student and staff privacy rights must be respected.
We continue to assure the public, parents, and the school community as a whole that student safety is the District's utmost concern, and the District will take all steps necessary to protect students.