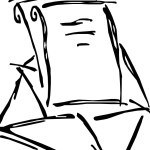 Lately with all the talk about our President not requiring our armies to protect our country, it seems fit to speak of those MIA's and POW's who never returned home from defending our country.  Obama deems it necessary to confront other countries and denounce us to them.  At the present, he is on an apology tour to Cuba in which he throws us under the bus.  But in the meantime, those warriors who fought bravely for us shall not be forgotten.
I attended a state dinner of the Military Order of the Purple Heart and saw something which brought tears to my eyes along with everyone else in attendance.  The following is what I witnessed at this function:
Your attention is directed to the small table located in a place of honor near the head table.  It is a way of symbolizing the fact that many of our Armed Forces are missing from our midst.  Today they are commonly called POWs or MIAs.  We call them Patriots.
They are unable to be with us this evening and so we remember them.  The table, set for one, is small; it symbolizes the frailty of one prisoner against his oppressors.  The table cloth is white, symbolic not of surrender, but of the purity of their intentions to respond to their country's call to arms.  The single rose displayed in a vase reminds us of the families and loved ones of our comrades who keep faith awaiting their return.  The red ribbon, tied to prominently on the vase, is reminiscent of the red ribbon worn upon the lapel and breasts of thousands who bear witness to this tragedy and unyielding determination demand proper accounting for our missing.
Our table is also a Seder of military nature:  A slice of lemon on the plate – to remind us of their bitter fate.  There is salt upon the plate – symbolic of the family's tears as they wait.  The glass is inverted – they cannot toast with us tonight.  The chair is empty – they are not here.
The POW/MIA flag is the banner proclaiming our resolve.  Today we take time to recall the plight of our POWs and MIAs.  They were our comrades in arms; we depended on them for aid and support.  Surely they would not have forsaken us.
Let us remember all POW/MIAs.
Barbara Skokan