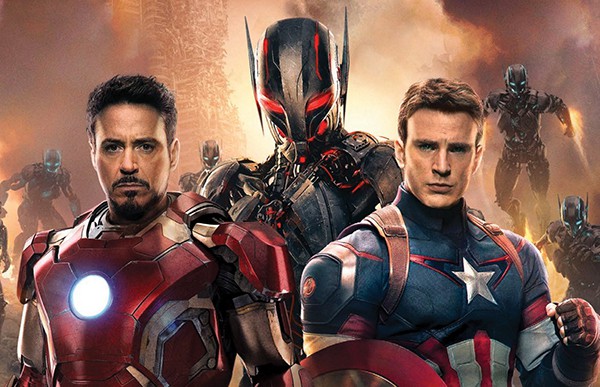 By: Anton Massopust III
"Whatever you did, whoever you are, that doesn't matter. You have to go out there and fight. When you step out that door, you are an Avenger."
Hawkeye has to encourage some new heroes in a battle against a killer robot in Avengers: Age of Ultron. Yes, the team is back on the big screen, led by Iron Man, tracking down the scepter that gave Loki power so that Thor can return it to Asgard. But Iron Man and Bruce Banner have been working on a special project through the power of the scepter to create an artificially intelligent robot in order to put armor around the world and protect it from alien invasion. The project creation is Ultron, a robot that becomes self-aware and decides on its own that The Avengers are the real threat to the world, and that mankind is doomed and must be destroyed and replaced with artificial life. It is now up to The Avengers, and new heroes such as The Scarlet Witch and Quicksilver and a few others that I won't mention since it will spoil the movie, to save the world and its inhabitants. Each of the Avengers gets a chance to shine, including Scarlett Johansson as The Black Widow, and Mark Ruffalo as The Incredible Hulk, that even has a little love blossom between those two superheroes. Thor goes on a journey to find out about a vision he has, and Captain America has to find a way to team up with Iron Man to help stop Ultron. James Spader provides the creepy voice for the seemingly unstoppable robot. They use a lot of motion capture in this film, and Ultron is actually quite funny as he is demented. The special effects are great; and what is also great about this film is that it is action packed and moves incredibly quickly. You will be sitting in your seat saying "Wow, it is over already?" Definitely stay to the end to watch the after credits scene, which is just one. It is a lot of fun, and definitely a great way to start off the summer season of interesting movies to come.